Directions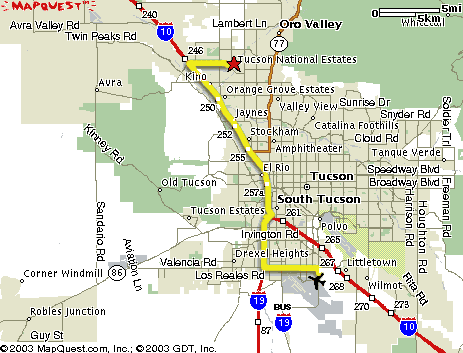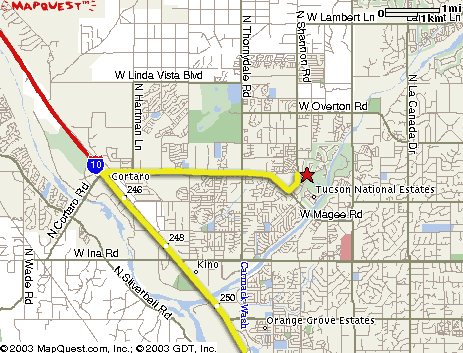 From Tucson International Airport:
(appx. 30 minutes/18 miles)
Exit left (west) off Tucson Blvd. onto Valencia
Proceed 3 mi. to I-19 North
Travel north approx. 5 mi. to I-10 West interchange
Take I-10 West to Exit 246 (Cortaro Road)
Proceed right (east) on Cortaro Road 3.5 mi. to Shannon Road
Turn left (north)
1/4 mi. to resort, entrance located on the right.
From Phoenix Sky Harbor Airport:
(appx. 1.5 hours)
Both I-17 and I-10 access Sky Harbor Airport. Upon departing the airport, look for Tucson directional signs which will point the way to I-10 East. Omni Tucson National Golf Resort and Spa is on the northwest side of Tucson, approximately a 90-minute drive from Sky Harbor Airport.
Exit the freeway at Cortaro Road (Exit 246) and turn left (east on Cortaro Road).
Drive approximately 3.5 miles then turn left onto Shannon Road.
The Omni Tucson National Golf Resort and Spa sign will be on the wall facing the intersection on the northeast corner.
The entrance is approximately 200 yards from the intersection.
The resort is located on the right hand side.
Contact
Tod R. Lauer, 520.318.8290, lauer@noao.edu
Kathy English, 520.318.8135, email: kenglish@noao.edu