User Committees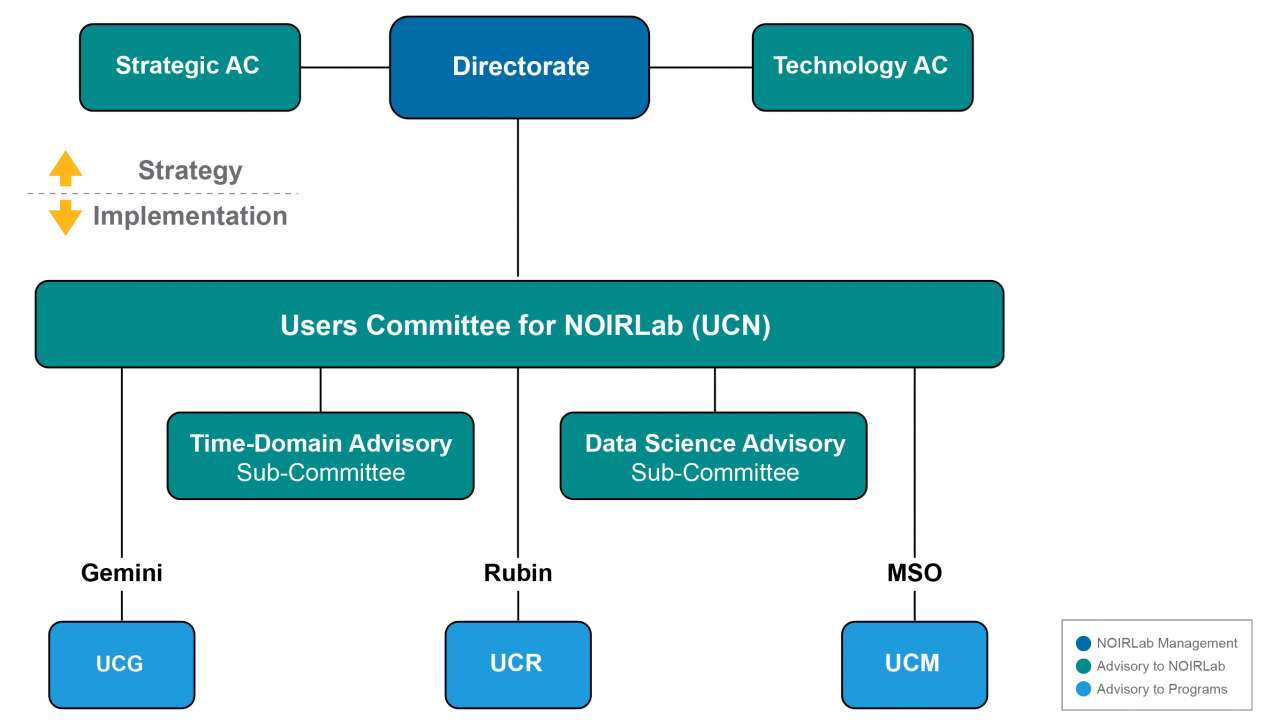 Users Committee for NOIRLab (UCN)
Details will be forthcoming as soon as the committee is established.
Users Committee for Gemini (UCG)
Jonelle Walsh (Chair)
Texas A&M University


Lindsey Bleem (US)
Argonne National Laboratory


Jennifer Burt (US)
Jet Propulsion Laboratory


Scott Chapman (CA)
Dalhousie University


Jonathan Gagné (CA)
Université de Montréal


Thiago Signori Gonçalves (BR)
Observatorio do Valongo, UFRJ


Maria Celeste Parisi (AR)
Observatorio Astronomico de Cordoba, Universidad Nacional de Cordoba


Thomas Puzia (CL)
Pontificia Universidad Catolica de Chile


Young Sun Lee (KR)
Chungnam National University, Department of Astronomy & Space Science


David Trilling (US)
Northern Arizona University


Jonathan Williams (UH)
University of Hawaii, Manoa


Letizia Stanghellini (ex-officio)
US NGO


Joanna Thomas-Osip (Gemini Coordinator)
Gemini Observatory, NOIRLab


Users Committee for Rubin (UCR)
Dominique Boutigny (France)
Laboratoire d'Annecy-le-Vieux de Physique des Particules (CNRS/IN2P3)


TBD (Chile)


Michael Wood-Vasey (USA)
University of Pittsburgh


Anja van der Linden (USA)
Stony Brook University


Igor Andreoni (USA)
University of Maryland


Ashley Villar (USA)
Penn State University


Markus Rabus (Chile)
Universidad Católica de la Santísima Concepción


Alessandra Corsi (USA)
Texas Tech University


Matthew Holman (USA, Chair)
Harvard-Smithsonian Center for Astrophysics


Qingling Ni (UK)
University of Edinburgh


Javier Sanchez (USA)
Fermilab


Matthew Weisner (USA)
Benedictine University


Users Committee for MSO (UCM)
Marcelle Soares-Santos (USA)
University of Michigan


Claire Poppet (USA)
Lawrence Berkeley National Lab


Guðmundur Kári Stefánsson (Gummi) (USA)
Princeton


Kevin Hardegree-Ullman (USA)
University of Arizona


Giacomo Terreran (USA)
Las Cumbres Observatory Global Telescope Network


Rene Mendez (Chile)
University of Chile


Committee Chair has not yet been appointed and will be forthcoming in the next few months.
Data Science Advisory Sub-committee
Viviana Acquaviva (USA)
CUNY City Tech


M. Virginia (Ginny) McSwain (USA)
Lehigh University


Brian Nord (USA)
Fermilab


Adrian Price-Whelan (USA)
Flatiron Institute


Angelle Tanner (USA)
Mississippi State


Harry Teplitz (USA)
IPAC


David Trilling (USA)
Northern Arizona University


John Wu (USA)
STScI


Time-Domain Advisory Sub-committee
Details will be forthcoming as soon as the committee is established.
Updated on May 20, 2023, 2:40 pm