PIA Program
CTIO Práctica en Investigación en Astronomía (PIA) Program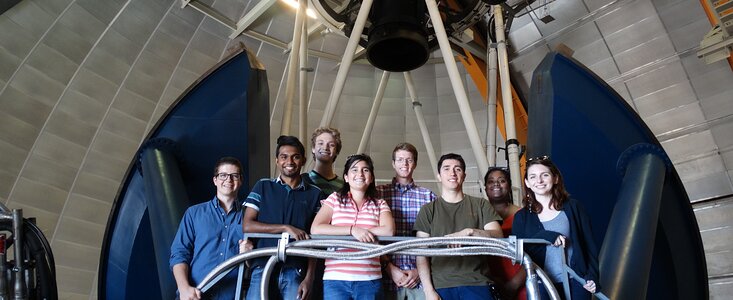 The 2015 PIA and REU students in front of the 4-m Blanco Telescope at CTIO
IMPORTANT NOTE: The REU-PIA program is currently not offered.
NOTA IMPORTANTE: Actualmente no se ofrece el programa REU-PIA.
We do, on occasion, accept unpaid interns who have funding through another source. For example, in the past we have hosted unpaid interns with funding through a scholarship or grant from their university, and through the Fulbright Program. If you have a source of external funding and would like to apply for an unpaid internship at CTIO, or if you have any questions about past CTIO PIA Programs, please send email to ctiopia@noao.edu. Below you can find the information describing our previous CTIO PIA programs.
In parallel with the REU Program, CTIO offers an equivalent program for Chilean students. Two students are selected each year to participate in a research program funded by CTIO and carried out together with the REU program.
More information about the CTIO PIA program in Spanish can be found below:
Reseña de CTIO - El Observatorio Inter-Americano de Cerro Tololo es el centro nacional de los Estados Unidos para el desarrollo de la astronomía en el hemisferio Sur. Las oficinas del Observatorio están localizadas en La Serena, a unos 400 kms al norte de Santiago. Los telescopios se ubican en la cima de Cerro Tololo, a 90 kms al Este de La Serena, en la pendiente Oeste de los Andes, y a una elevación de 2.200 metros sobre el nivel del mar. Los participantes en el programa viven y trabajan en el recinto de las oficinas del observatorio en La Serena, con por lo menos dos viajes al cerro. Información adicional sobre CTIO está disponible (en inglés) aquí: Más información sobre CTIO.
Proyectos de Investigación - Los participantes del programa PIA trabajarán en programas de investigación específicos en colaboración directa con uno o más miembros del personal científico de CTIO. El programa PIA enfatiza el uso y aplicación de técnicas observacionales, y proporciona oportunidades para adquirir experiencia observacional directa usando los telescopios e instrumentos existentes en CTIO. Los participantes que terminen sus proyectos de forma sobresaliente tendrán la oportunidad de viajar a EE.UU. para presentar los resultados obtenidos en un congreso de la American Astronomical Society.
Fechas - El programa PIA tendrá una duración de aproximadamente 10 semanas, empezando el sabado 9 de enero y terminando en la noche del viernes 18 de marzo del año 2016.
Costos y Beneficios - Estas posiciones son de jornada completa, y los seleccionados recibirán una remuneración, así como alojamiento en el recinto de las oficinas de CTIO en La Serena. Una cocina esta disponible para los participantes a cocinar sus propias comidas. El traslado en bus a La Serena (ida y vuelta) también está incluido.
Requisitos - Los participantes deben ser estudiantes en sus últimos años de pregrado en Física o Astronomía, un graduado reciente de pregrado (no mas de 2 años desde la graduación), o en sus dos primeros años de post-grado (i.e., previo al comienzo de su tesis de post-grado) en Física o Astronomía, en una universidad chilena.

El programa se conduce en inglés.
El plazo de solicitud para el programa de 2016 ha pasado. Se encuentran las instrucciones de postulación y los formularios de postulación aquí: Formularío de Postulación. Nuestro programa de 2016 aceptó 6 estudiantes REU de instituciones de Estados Unidos, y 2 estudiantes de PIA de instituciones chilenas.
Usted puede encontrar respuestas a preguntas comunes acerca de los programas de REU y PIA (en Inglés) en la página de Preguntas Frecuentes: REU/PIA FAQ. Los estudiantes y profesores guías interesados pueden obtener información adicional contactando a la siguiente persona por correo electrónico (ctiopia@ctio.noao.edu) o por teléfono 51-2205200.
Current and Past REU/PIA Programs
CTIO REU & PIA Programs Publication List
Updated on May 23, 2022, 11:21 am