REU & PIA Programs
CTIO Research Experiences for Undergraduates (REU) Program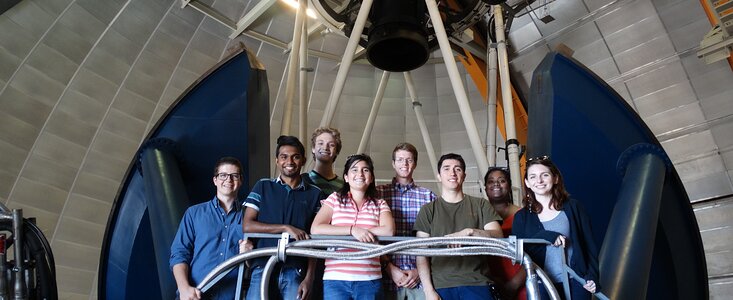 The 2015 REU and PIA Students in front of the 4-m Blanco Telescope at CTIO
IMPORTANT NOTE: The REU-PIA program is currently not offered.
NOTA IMPORTANTE: Actualmente no se ofrece el programa REU-PIA.
We do, on occasion, accept unpaid interns who have funding through another source. For example, in the past we have hosted unpaid interns with funding through a scholarship or grant from their university, and through the Fulbright Program. Below you can find the information describing our previous CTIO REU programs.
The Cerro Tololo Inter-American Observatory (CTIO), a division of the National Optical Astronomy Observatories (NOAO), located in La Serena, Chile, offers 10 week Undergraduate Research Assistantships to qualified undergraduates as part of the National Science Foundation funded Research Experiences for Undergraduates (REU) program. The program is run during the Chilean summer, January through March, both to offer students an alternative to the more common northern summer programs, and to encourage interaction with Chilean students visiting and working at CTIO throughout these months as a part of the Práctica en Investigación en Astronomía (PIA) Program. You can find answers to common questions about the CTIO REU program on the Frequently Asked Questions page: REU/PIA FAQ.
We do not offer the REU program during the northern summer months of June through August. Students interested in programs during this period should investigate the opportunities provided by the Kitt Peak National Observatory REU program and at other REU sites, as well as the listings of summer programs maintained by the American Astronomical Society, the American Physical Society, and on the Pathways to Science website.
Current and Past REU/PIA Programs
CTIO REU & PIA Programs Publication List