Venue
The conference will be held in the Environmental and Natural Resources Building 2 (ENR2), in room S107, the Agnese Nelms Lecture Hall, at the University of Arizona (UA). Sessions, breaks, and provided meals will be held in room S107 and the adjoining outdoor courtyard.
ENR2 is located in the southwest corner of The University of Arizona campus at 1064 E. Lowell Street, Tucson, AZ, 85721. Click here for the location on google maps.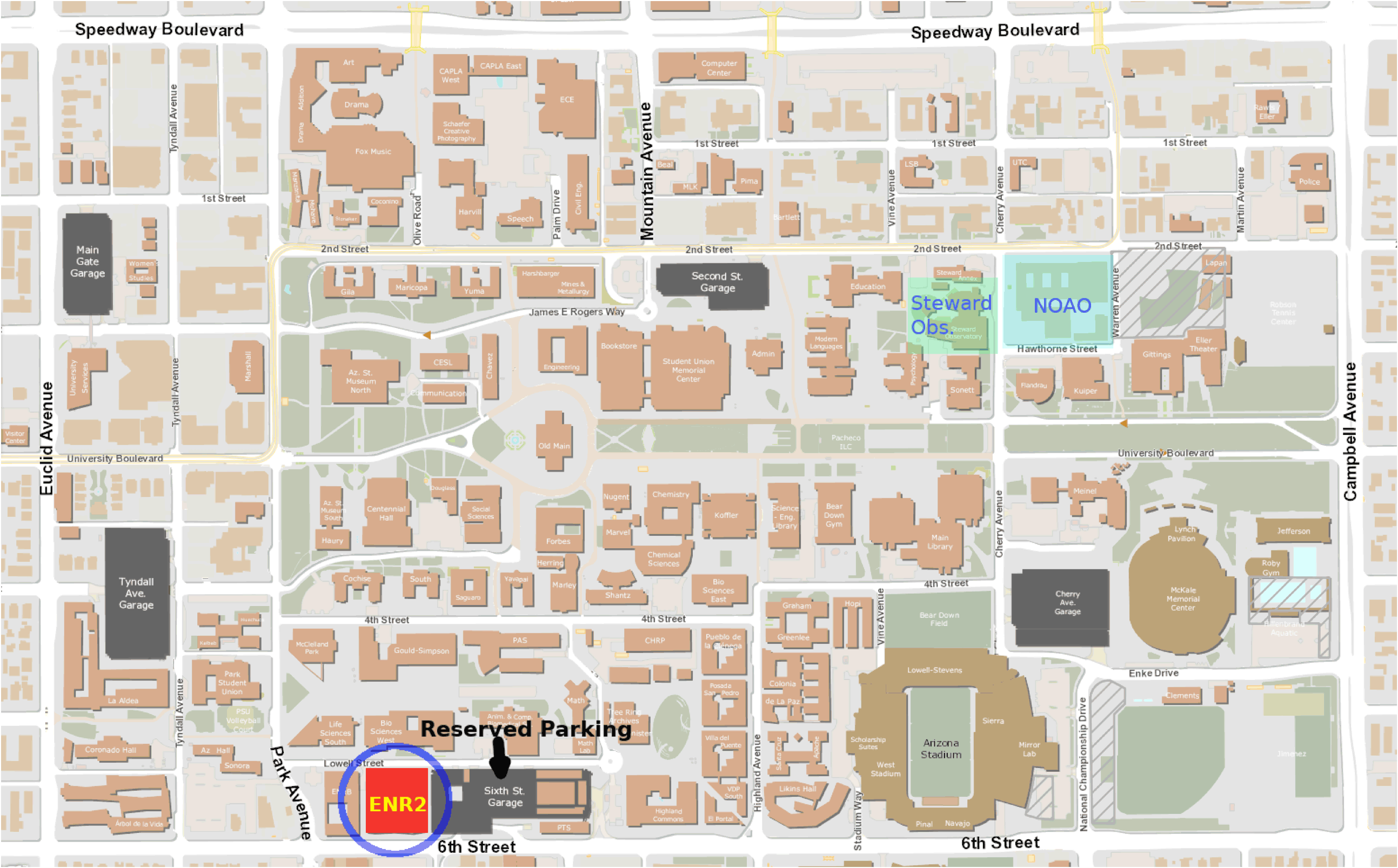 Parking: Parking is available at the Sixth Street Garage, directly adjacent to ENR2. Click here for an interactive map of UA (search ENR2). Parking is first come, first serve; however, since the conference takes place during UA Spring Break, we expect ample parking to be available. Parking hours are 5am-8pm; cars cannot remain parked in the garage overnight. Parking rates are $2/hour or $8 for a full day. Cash and major credit cards are accepted. Street and metered parking are also available throughout campus.
Accessibility: The building and conference room are handicap accessible. All entrances to ENR2 are at ground level, as is the entrance to the conference room. All gender restrooms are available in the building.
Internet Access: Guests to the University of Arizona can access WiFi via eduroam. Attendees can also create a guest account that is valid for five days. Click here for instructions to create a guest account and access WiFi via UAGuest. Note: in order to access UAGuest WiFi, you will need a US phone number that can accept text messages. Please contact the conference organizers (tucson.dust2019@gmail.com) or leave a note on your registration if you need additional help accessing the WiFi.
Traveling to UA
By Plane
The closest airport to UA is the Tucson International Airport, approximately 8 miles or a 15 minute drive from the University. Shuttle services available via the Stagecoach Express Shuttle, (480-982-2555). Phoenix Sky Harbor International Airport is 112 miles from UA and takes approximately 1 hr 40 min to arrive at UA by car. Shuttle services from PHX are available via the Arizona Shuttle (520-795-6771) with a stop at UA (501 N. Park Ave., Tucson 85719). Both airports have rental car agencies.
By Bus
The Tucson area is serviced by Greyhound Bus Lines and the Sun Tran bus system (local only).
Shuttle and Car Services
Reservations are recommended for car and shuttle services.
Local Transportation
The UA and Tucson area are serviced by the Sun Tran transit system. This includes the Sun Tran buses and the Sun Link streetcar, serving the University, Historic 4th Ave, and downtown Tucson (schedule). Additionally, the University is serviced by the Cat Tran Shuttle, with limited service during the conference due to spring break.
Rental bikes are also available via the tugo bike share on UA campus and in the surrounding areas. Short term and daily passes are available via purchase at kiosk stations or via a smartphone app.
Local Area Information
Tucson Festival of Books – March 2-3 on the UA mall! More than 500 authors will participate in this weekend event, including RL Stine and astronaut Scott Kelly. In addition, attendees can purchase books from over 250 vendors and enjoy stage performances and demonstrations at Science City. This event is free to attend.
Dining
On campus: Dining is available on campus at the UA Student Union and at Main Gate Square (along Park Ave and University Blvd), a ten minute walk from ENR2. Options range from fast food to dine-in restaurants, including Jimmy Johns, Chipotle, Panera Bread, Gentle Ben's (American gastropub), Pelio Grill (Greek), Kababeque Indian Grill, Caffe Luce (coffee) and others.
Other campus dining is available in the northeast corner near Steward Observatory/NOAO (a 20 min walk from ENR2), including Tumerico and Bentley's Café with excellent vegan options.
Off-campus: The most convenient off-campus dining options are located on Historic 4th Ave and downtown Tucson, accessible via car, bike (tugo bike share) , and the Sun Link streetcar. Discover why Tucson was named the first US Capital of Gastronomy by UNESCO! Check out La Indita (Mexican/Native American), BOCA Tacos Y Tequila, The B Line (go for dessert!), or the Coronet on 4th Ave. Or head downtown to the Downtown Kitchen, El Charro (local favorite for Mexican), Hotel Congress, or Seis Kitchen at Mercado San Agustin.
Local Attractions
On Campus
There are several indoor attractions on campus including the Arizona State Museum, Center for Creative Photography, UA Museum of Art, and the UA Gem & Mineral Museum.
Nearby Attractions
Tucson Botanical Gardens – a great way to spend a few hours outdoors in Tucson's perfect March weather.
Tumamoc Mountain and Sentinel Peak ("A" Mountain) – just west of downtown Tucson, an easy hike with a great view of Tucson from the top.
Hotel Congress – historic hotel, bar, and restaurant located downtown with live music and other events
Other Attractions (recommended with a personal/rental car)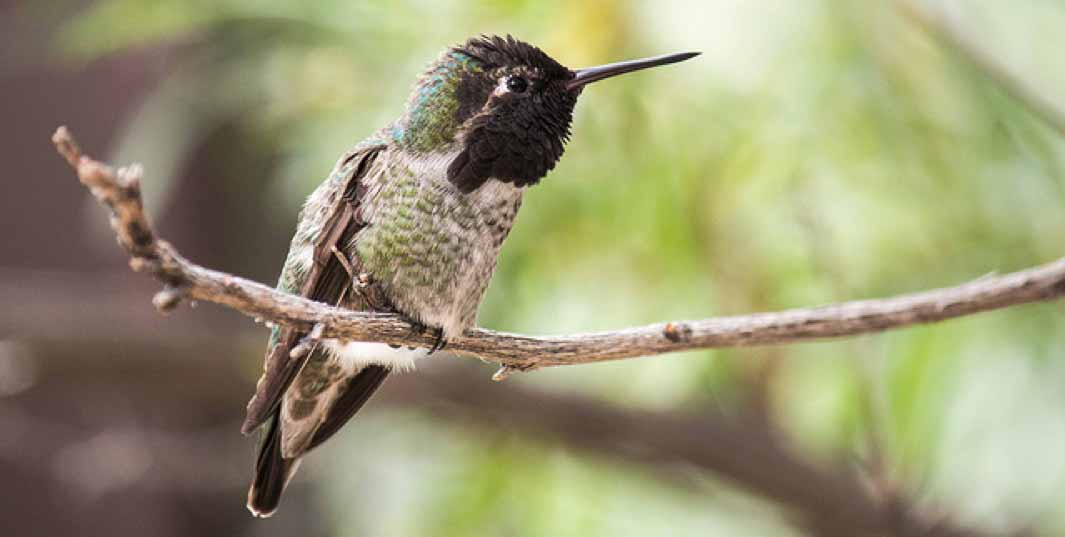 Arizona-Sonora Desert Museum – located in Saguaro National Park West (~30 minute from campus). An immersive indoor/outdoor museum featuring plants and animals native to the Sonoran Desert. A unique experience and perfect way to enjoy Tucson's March weather!
Mission San Xavier del Bac – a well preserved example of Spanish colonial architecture complete with colorful frescoes, sculptures, and carvings located ~20 minutes from campus.
Saguaro National Park (West) and Tucson Mountain Park - full of hiking trails and the iconic Saguaro cacti, about 20-30 min west of campus.
Mt. Lemmon - at 7,000 feet, Mt. Lemmon is a sky island of alpine forests, completely distinct from the Sonoran Desert. Check out the hiking trails, picnic areas, and town of Summerhaven. From UA, travel time to the top is ~1 hour by car.