Public Event
Gemini Science Meeting 2022 is excited to host an evening public talk by renowned videographer Kwon O Chul who will present "The Magic of Astrophotography and Astronomy at Gemini Observatory".

Where: Grand Ballroom, Millennium Hilton Seoul
When: 7pm on July 28th (THU), 2022
Live streaming available at this link. As of July 23, Live English Translation is unavailable at this time. English translation will be made available after this event.
No reservation is required and admission to the event is on a first-come, first-serve basis.
Everybody is more than welcome to join the event on-site but please note that the admission is subject to the capacity of the room, and to the evolving situation of COVID-19.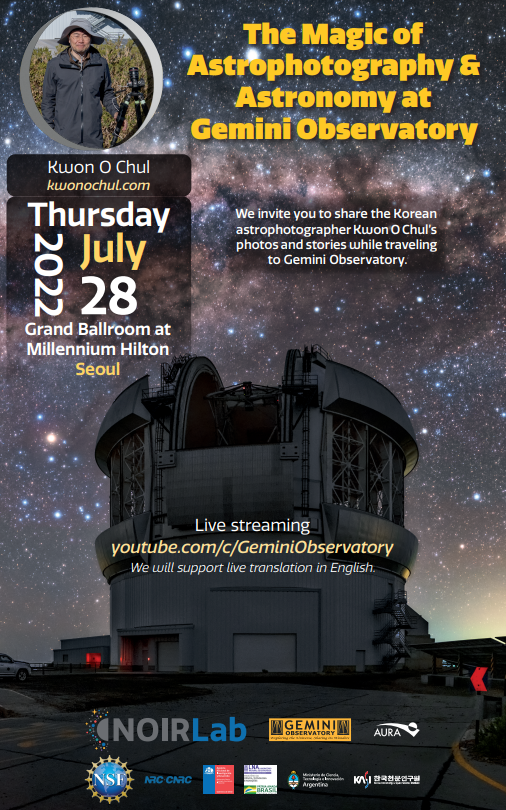 Kwon O Chul (www.kwonochul.com)

Astrophotographer

After graduating from the College of Engineering at Seoul National University, he worked in various fields such as submarine design, software development, and wired and wireless Internet management for large corporations and venture companies. Work was fun, but life as an office worker in Korea was not happy.

He has had eight solo exhibitions and has published five books. He was selected as the first Korean to be selected by NASA's Astronomy Picture of the Day in the US, and he is providing the picture to the US National Geographic site. As a member of TWAN (The World At Night, www.twight.org), which consists of world-famous astrophotographers, he carried out a special project for the UNESCO-designated 'World Astronomical Year 2009'.
Live Stream: