About NSF's NOIRLab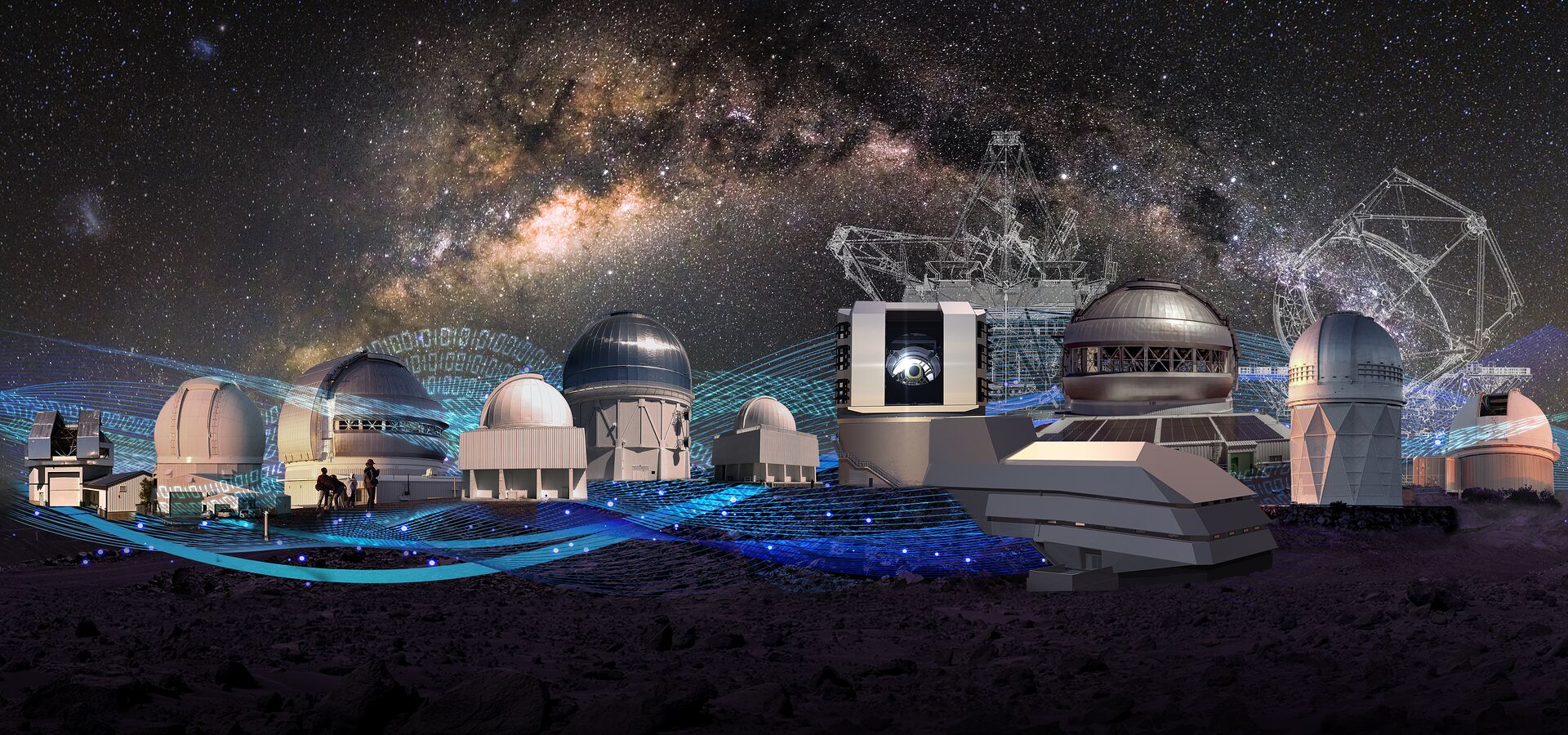 NSF's NOIRLab (National Optical-Infrared Astronomy Research Laboratory) is the US national center for nighttime astronomy. For the first time, all of the nighttime optical/infrared observatories funded by NSF are unified into a single organization. The integration of the Mid-scale Observatories (MSO - Cerro Tololo Inter-American Observatory, CTIO, Kitt Peak National Observatory, KPNO) the Community Science & Data Center (CSDC), the Gemini Observatory, and the Vera C. Rubin Observatory creates a powerful capability for discovery, technology development, STEM workforce growth, and education. NOIRLab empowers astronomers to tackle the most pressing questions in astrophysics today and opens up new discovery space for the future.



NOIRLab will host a unique science archive of large-area surveys of the deep sky linked to powerful ancillary data sets. Data science schools will train the power users of tomorrow and equip the community with powerful analytic tools. The discovery potential of large uniform datasets is driven not only by their content but also by the tools and infrastructure available to support them. NOIRLab aims to be the premier big data resource for US optical-infrared astronomy. Our vision is to create in NOIRLab a national resource that will lead the world in data-intensive astronomy, drive exploration of the new frontier in time-domain astrophysics, lead a national strategy for adaptive optics and astronomical instrumentation, and provide a foundation for scientists to make full use of the coming Extremely Large Telescopes and new tools for discovery in the 2030s and beyond.

NOIRLab is managed by the Association of Universities for Research in Astronomy under a Cooperative Agreement with the National Science Foundation.

Where do you go from here?
Research interests, functional responsibilities, and contact information for all NOIRLab scientific staff.
Information about the different facilities operated by NOIRLab.
All you need to know about the current NOIRLab telescopes and instruments available for research.
Archival, data, and software related efforts developed at NOIRLab.
Detailed information on how to acknowledge the use of specific telescopes, surveys, and data archives at NOIRLab.
Comprehensive list of abbreviations and acronyms within NOIRLab and AURA.
Read the latest news and announcements about NOIRLab operations, proposals, data releases, and research published using our facilities.
Access the Email Newsletters and news archives.
Contact information and details about visiting NOIRLab facilities, including maps, directions, and local resources.
Open opportunities to become part our team.
A comprehensive list of resources and contact information for the NOIRLab science users.
Updated on May 3, 2023, 8:35 am