공개강연
Gemini Science Meeting 2022 학회의 특별행사로 천체사진가 권오철 작가님이 "천체사진가 권오철의 제미니 천문대 촬영기(The Magic of Astrophotography and Astronomy at Gemini Observatory)"라는 제목으로 강연을 해주실 예정입니다. 많은 분들의 참여를 바랍니다.
장소: 밀레니엄 힐튼 서울 호텔 그랜드볼룸
일시: 2022년 7월28일 (목요일) 저녁 7시-9시
온라인 중계
참고: 공개강연 당일 현장 참석은 무료이며 선착순 입장입니다. 다만, 공간제약과 코로나19 방역 상황에 따라 입장이 제한될 수 있습니다.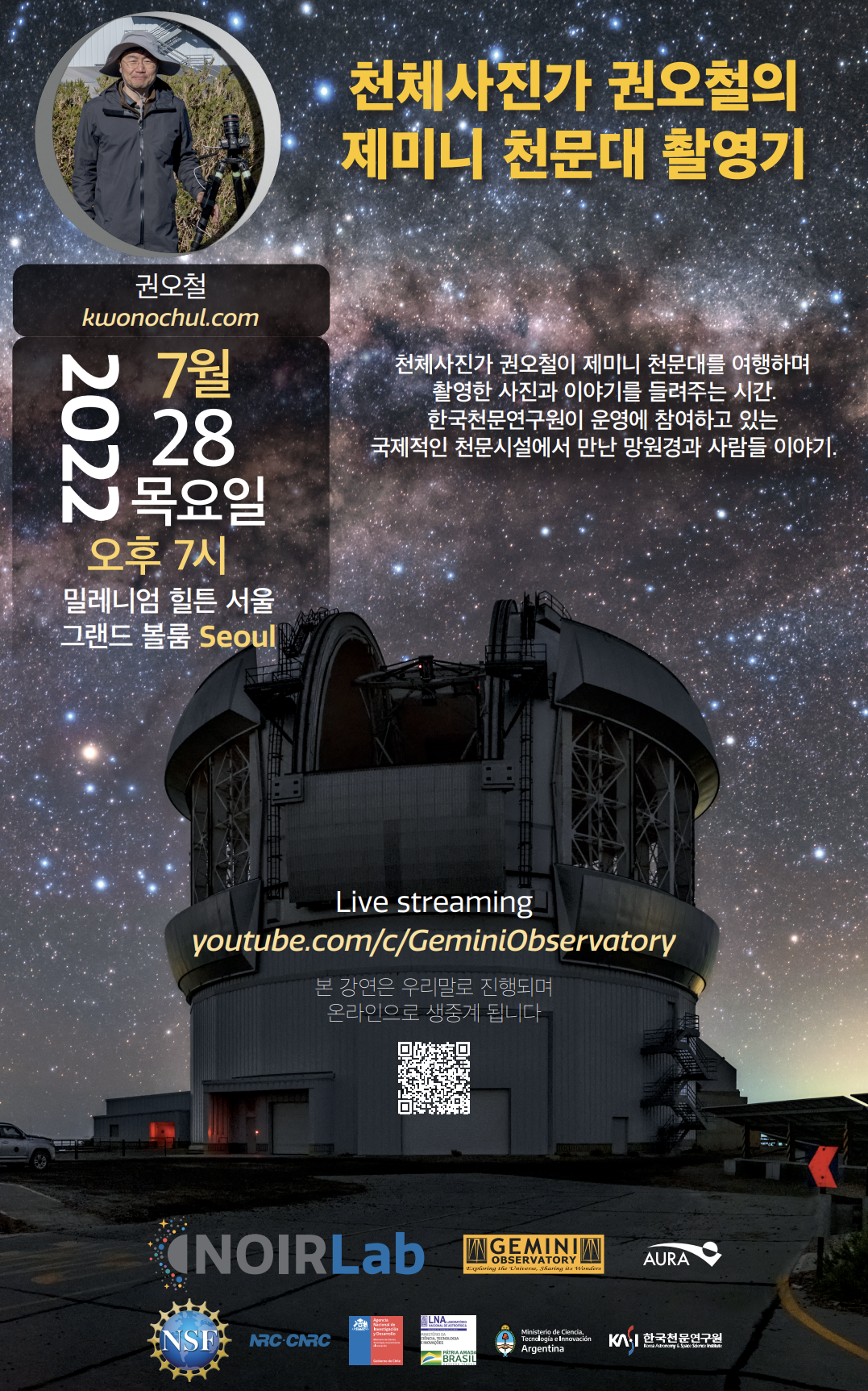 권오철 작가 소개 (www.kwonochul.com)
천체사진가인 권오철 작가는 서울대학교 공과대학을 졸업한 뒤에 대기업 사원으로 일하며 잠수함 설계, 소프트웨어 개발, 유무선 인터넷 관리 등 다양한 방면에서 경력을 쌓아왔으나, 회사원 생활이 아주 행복하지만은 않았고, 천체사진가로 전업하면서 비로서 자신이 원하는 행복한 삶을 찾았다.
권오철 작가는 한국인으로는 최초로 그의 사진이 NASA가 선정하는 오늘의 천문사진(Astronomy Picture of the Day)에 선정되었으며, 미국 National Geographic 사이트에 사진이 실리기도 하였다. 전세계의 저명한 천체사진가로 구성된 TWAN(The World At Night, www.twight.org)의 정회원이기도한 권오철 작가는 UNESCO가 제정한 '2009년 세계 천문의 해(World Astronomical Year 2009)'를 기념하는 특별한 프로젝트를 진행하기도 했다.
Live Stream: