scidoc1151 — Document
Channel Acquisition Board - How to program
May 4, 2010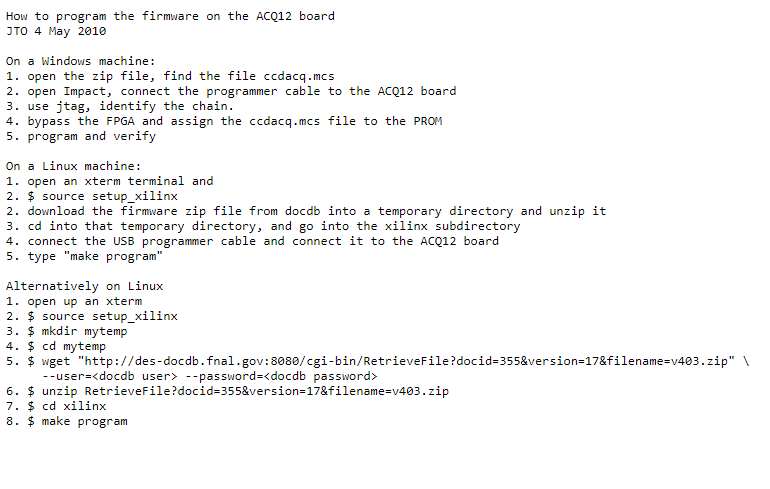 How to program the firmware on the ACQ12 board
JTO 4 May 2010
On a Windows machine:
1. open the zip file, find the file ccdacq.mcs
2. open Impact, connect the programmer cable to the ACQ12 board
3. use jtag, identify the chain.
4. bypass the FPGA and assign the ccdacq.mcs file to the PROM
5. program and verify
On a Linux machine:
1. open an xterm terminal and
2. $ source setup_xilinx
2. download the firmware zip file from docdb into a temporary directory and unzip it
3. cd into that temporary directory, and go into the xilinx subdirectory
4. connect the USB programmer cable and connect it to the ACQ12 board
5. type "make program"
Alternatively on Linux
1. open up an xterm
2. $ source setup_xilinx
3. $ mkdir mytemp
4. $ cd mytemp
5. $ wget "http://des-docdb.fnal.gov:8080/cgi-bin/RetrieveFile?docid=355&version=17&filename=v403.zip" \
--user=<docdb user> --password=<docdb password>
6. $ unzip RetrieveFile?docid=355&version=17&filename=v403.zip
7. $ cd xilinx
8. $ make program
About the Document
| | |
| --- | --- |
| Id: | scidoc1151 |
| Release date: | May 4, 2010, 5:13 pm |
---