Total Lunar Eclipse over Cerro Tololo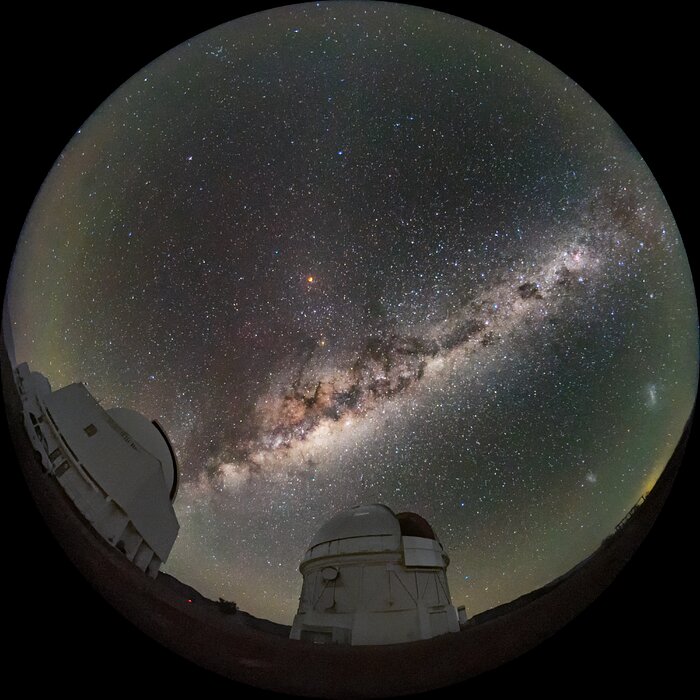 A total lunar eclipse transformed the sky on the evening of 15 May 2022 and photographers at NOIRLab facilities in Arizona and Chile took advantage of clear skies to capture the event.
This week's Image of the Week shows the eclipse as seen from Cerro Tololo Inter-American Observatory (CTIO), a Program of NSF's NOIRLab, near La Serena, Chile. The crimson Moon shines above the Milky Way in the center left of the image. At the bottom of the image are the Víctor M. Blanco 4-meter Telescope (center) and Curtis Schmidt Telescope (left). In the southern hemisphere, the eclipse appeared extraordinarily dark as a result of the ash from the 2021 Hunga Tonga–Hunga Ha'apai volcanic eruption. 
In the northern hemisphere, the lunar eclipse was captured in this close-up image taken from the Visitor Center at Kitt Peak National Observatory (KPNO), also a Program of NSF's NOIRLab, near Tucson, Arizona. You can read more about how a lunar eclipse happens in this recent Image of the Week.
The eclipse was the longest total lunar eclipse visible from the Americas since 1989. It also coincided with a "supermoon", which occurs when the Moon is at its nearest point to Earth.
Credit:
CTIO/NOIRLab/NSF/AURA/D. Munizaga