Tonga Eruption Detected at Maunakea
Pressure waves are seen in Gemini North cloud cameras
19 January 2022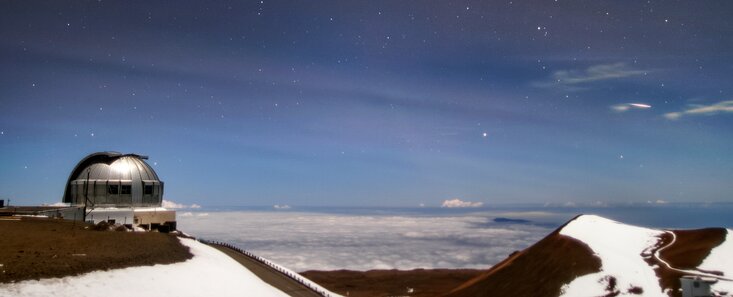 On Saturday 15 January 2022 04:10 UT (Friday evening 14 January 2022 in the US), an underwater volcano in the South Pacific erupted violently. The eruption from the Hunga Tonga-Hunga Ha'apai volcano created atmospheric pressure waves that were detected and seen 5000 kilometers (3000 miles) away in Hawai'i.
The waves were captured visually Friday evening in these cloud cam videos from Gemini North, one half of the International Gemini Observatory, a Program of NSF's NOIRLab. Watch for faintly red waves traveling through the atmosphere beginning beginning from around 22:10 to 23:30 HST in the three videos recorded in the directions west, south, and north from Maunakea, respectively.  
More than four hours after the eruption, the pressure gauge from the weather tower located between Gemini North and the Canada-France-Hawaii Telescope on Maunakea also detected the shock wave from the volcanic blast. According to Australia's Bureau of Meteorology, the shock wave traveled about a thousand kilometers per hour (over 600 miles per hour), or close to the speed of sound. 
Links
Contacts
Vanessa Thomas
Public Information Officer
NSF's NOIRLab
Tel: +1 520 318 8132
Email: vanessa.thomas@noirlab.edu