Astro Data Lab
NOIRLab's Astro Data Lab is a community science platform. Its foremost goal is to enable efficient exploration and analysis of the large datasets now being generated by instruments on NOIRLab's telescopes. Astro Data Lab is being developed at NOIRLab's Community Science & Data Center. It aims to:
Enable easy and open access to high-value survey catalogs from NOIRLab and external sources (e.g. Sloan Digital Sky Survey, Gaia, WISE), and to NOIRLab - based images linked to catalog objects.
Enable scientists to discover the data that they need for their science. 
Bring scientists data reduction needs and analysis code to the data. Users need nothing but a good idea to unlock the power of really big data.
Allow scientists to automate their analysis to aid discovery in large datasets.
Astro Data Lab provides powerful services to enable as much work as possible close to the data, while allowing transfer of data and results to local hardware anytime during the process.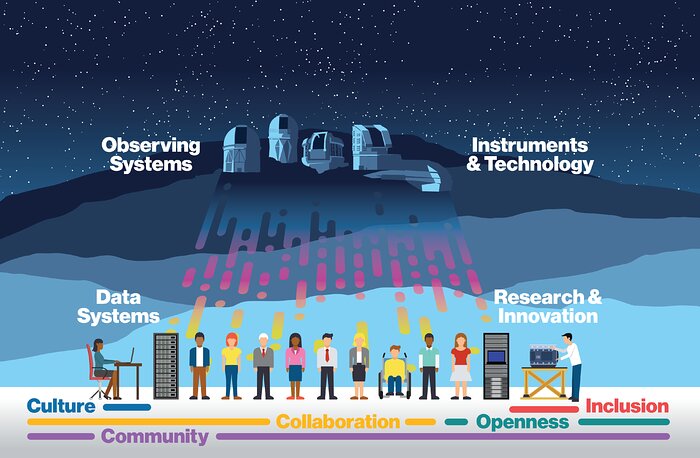 Conceptual view of how NOIRLab's Community Science & Data Center allows the community of scientists to interact with observing systems, data systems and instrumentation, supported by a staff with a strong focus on research and innovation. A culture of equity, inclusion, openness and collaboration helps create a healthy and vibrant community.