McMath-Pierce Solar Telescope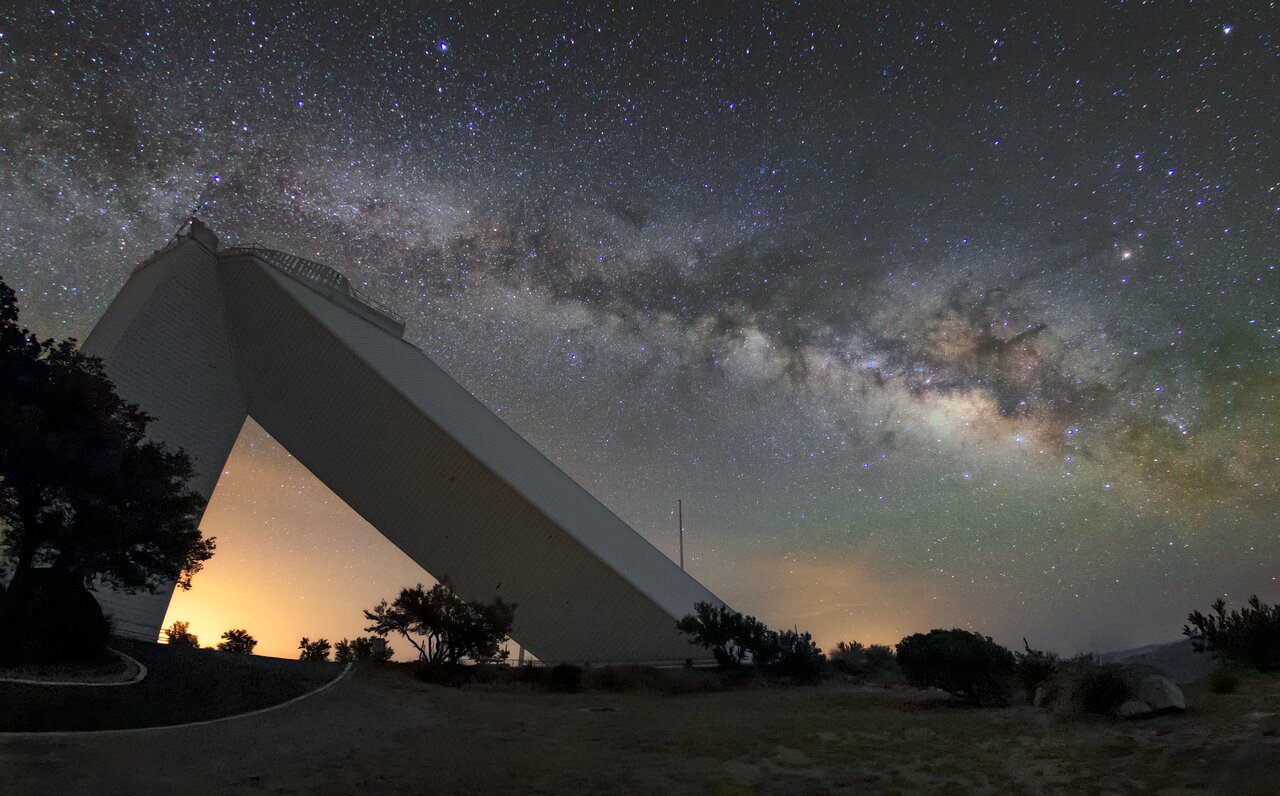 For many years the largest solar telescope in the world, the McMath-Pierce Solar Telescope, was a triple instrument. In addition to the primary 1.61-meter mirror fed by the 2.03-meter heliostat, there are a pair of telescopes fed by 0.81-meter heliostats mounted beside the main heliostat. These two instruments have 1.07-meter and 0.91-meter primary mirrors. The telescope used the heliostat at the top of its main tower to direct the Sun's light down a long shaft to the primary mirrors. The distinctive diagonal shaft continues underground, where the telescope's primary mirror is located.
The facility is named to honor Dr. Keith Pierce as well as Dr. Robert McMath.
The McMath-Pierce Solar Telescope was decommissioned in 2017 and is being converted to the NOIRLab Windows on the Universe Center for Astronomy Outreach.
McMath-Pierce Solar Telescope
Name(s)
McMath-Pierce Solar Telescope
Status
Decommissioned
Broad Science Goals
The McMath-Pierce was used to study the structure of sunspots, as well as sunspot spectra.
Site
Kitt Peak National Observatory, Arizona, USA
Location Coordinates
31º 95' 'S
111º 59''E
Altitude
2096 meters (6876 feet)
Enclosure
The telescope is a 110-foot-tall, 26-foot-diameter platform that supports a mirror that reflects light down a 200-foot-long concrete optical tunnel. Both the tower and the light tunnel stand freely inside water-cooled protective concrete casings. These shelter the telescope from mountaintop winds, utilizing a square form tilted at a 45-degree angle.
Type
Reflecting Solar Telescope
Optical Design
f/54
Field of View
10 arcminutes (unvignetted)
Diameter: Primary M1
1.6 meters
Material: Primary M1
Quartz
Diameter: Secondary M2
Material: Secondary M2
Cervit
Mount
Equatorial
First Light Date
1962
Adaptive Optics
A number of adaptive optics image stabilizers using sunspots, as object of contrast, were tested.
Images taken with the McMath-Pierce Solar Telescope
Link
Images of the McMath-Pierce Solar Telescope
Link
Videos of the McMath-Pierce Solar Telescope
Link
Press Releases with the McMath-Pierce Solar Telescope
Link
Please help us to complete this page by emailing information and corrections to info@noirlab.edu.