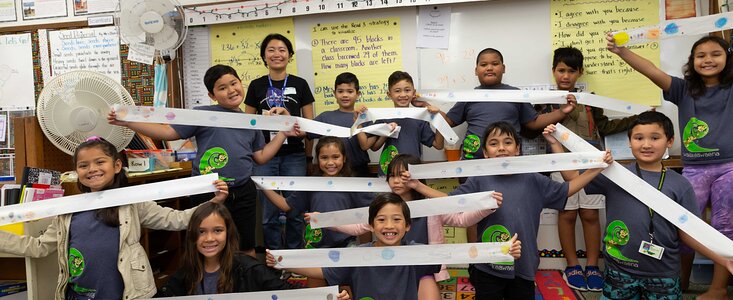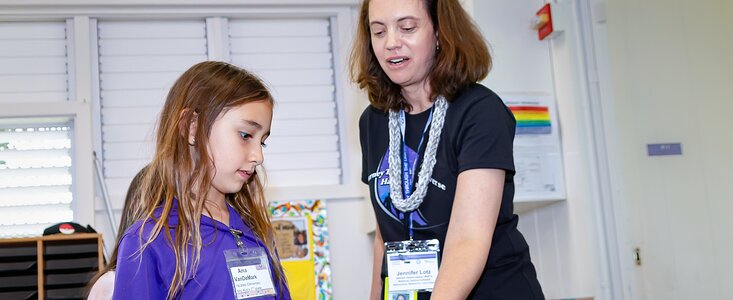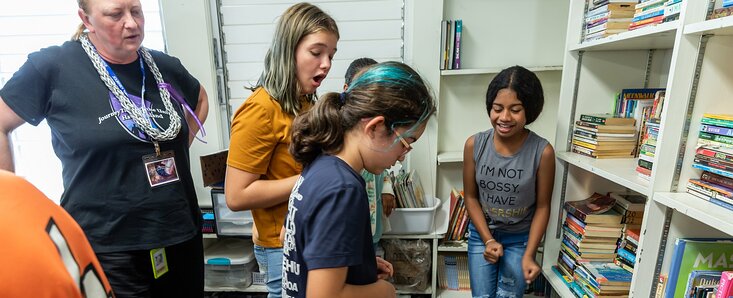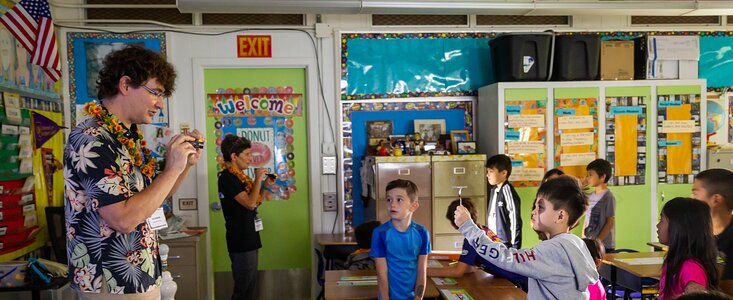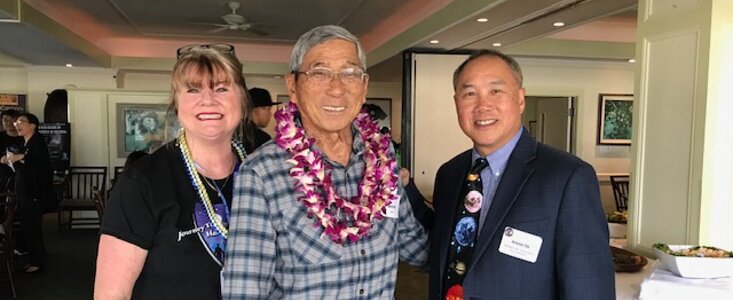 Journey Through the Universe
Links to previous years' Journey events: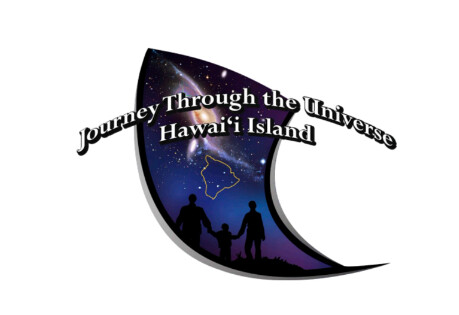 2023 |  2022 | 2021 | 2020 | 2019 | 2018 | 2017 | 2016 | 2015 | 2014 | 2013 | 2012 | 2011 | 2010 | 2009 | 2008 | 2007 | 2006 | 2005
Link To Journey Through NOIRLab
Hawai'i Island's leading astronomy education and outreach program, Journey Through the Universe (Journey), is returning for its 20th year from February 5th - 9th, 2024. Journey Week will include in-person classroom presentations and career panels taking place in Hilo, Hawaiʻi in partnership with the Department of Education Hilo-Waiākea Complex Area. Outside of the Journey Week the program also provides unique Starlab presentations for PreK-2nd grade classrooms and public lectures. 
Journey Through the Universe promotes science education and inspires students to explore Science, Technology, Engineering and Math (STEM) fields by developing literacy in science. Students envision themselves in STEM careers and experience the unique science happening in our local Hawaiʻi community and beyond through the yearly classroom visits of astronomers, engineers and other STEM professionals focusing on the Maunakea Observatories. Journey endeavors to foster curiosity and wonder about our Universe, and the cutting-edge research and technology that is allowing us to understand our place in the cosmos right in our own community.
Originally developed by the National Center for Earth and Space Science Education (NCESSE), Journey has expanded each year since its introduction in Hawaiʻi by the staff of the international Gemini Observatory, a Program of NSF's NOIRLab. Journey Through the Universe is also coordinated in the Northern half of Hawaiʻi Island by the Canada-France-Hawaiʻi Telescope and Journey Through the Universe in Maui is led by the National Solar Observatory. The success of Journey Through the Universe over the past 20 years is evidence of the support from our local community partners across the industries of government, business, astronomy, and higher education and our foundational partnerships with the Maunakea Observatories, and the Hawaiʻi State Department of Education.
Background
Over the past 20 years, Journey Through the Universe has provided classroom visits, career panels, teacher workshops and other educational opportunities throughout the year. Gemini's StarLab Portable Planetarium has traveled to kindergarten and first grade students in local schools, offering students a fun way to engage with our Solar System and constellations, while helping teachers incorporate the planetarium into the classroom. Gemini has hosted FamilyASTRO training to teach practical applications of classroom astronomy to families, youth groups, after-school programs, and other organizations. Every other year, NASA's Solar System Exploration Research Virtual Institute (SSERVI) has led a Lunar and Meteorite Sample Certification Workshop, in which teachers become certified to borrow samples from the Apollo missions, and to use NASA online tools to build appreciation for science among their students. Journey has also offered teacher tours of the observatories on Maunakea.
Career panels featuring local observatory professionals are an important aspect of the Journey program. The panels allow students to discover the wide range of educational possibilities and career opportunities available at observatories and within the field. Emily Peavy, Science Educator with Gemini International Observatory and career panelist reflects: "It is amazing to have the opportunity to share our unique experiences with the students and get them excited about all of the amazing possibilities of pursuing a career in science, and engineering which exist all within our own community!"
"Journey Through the Universe would not succeed without the help of our community partners and sponsors, including the Department of Education, Hawai'i Island business community, Maunakea Observatories, the Thirty Meter Telescope and NASA, among many others," said Janice Harvey (retired), Journey Through the Universe program coordinator for 18 years. "Their continued support is a demonstration of their commitment to our community and the future of science education for Hawai'i students."