NOIRLab and Chile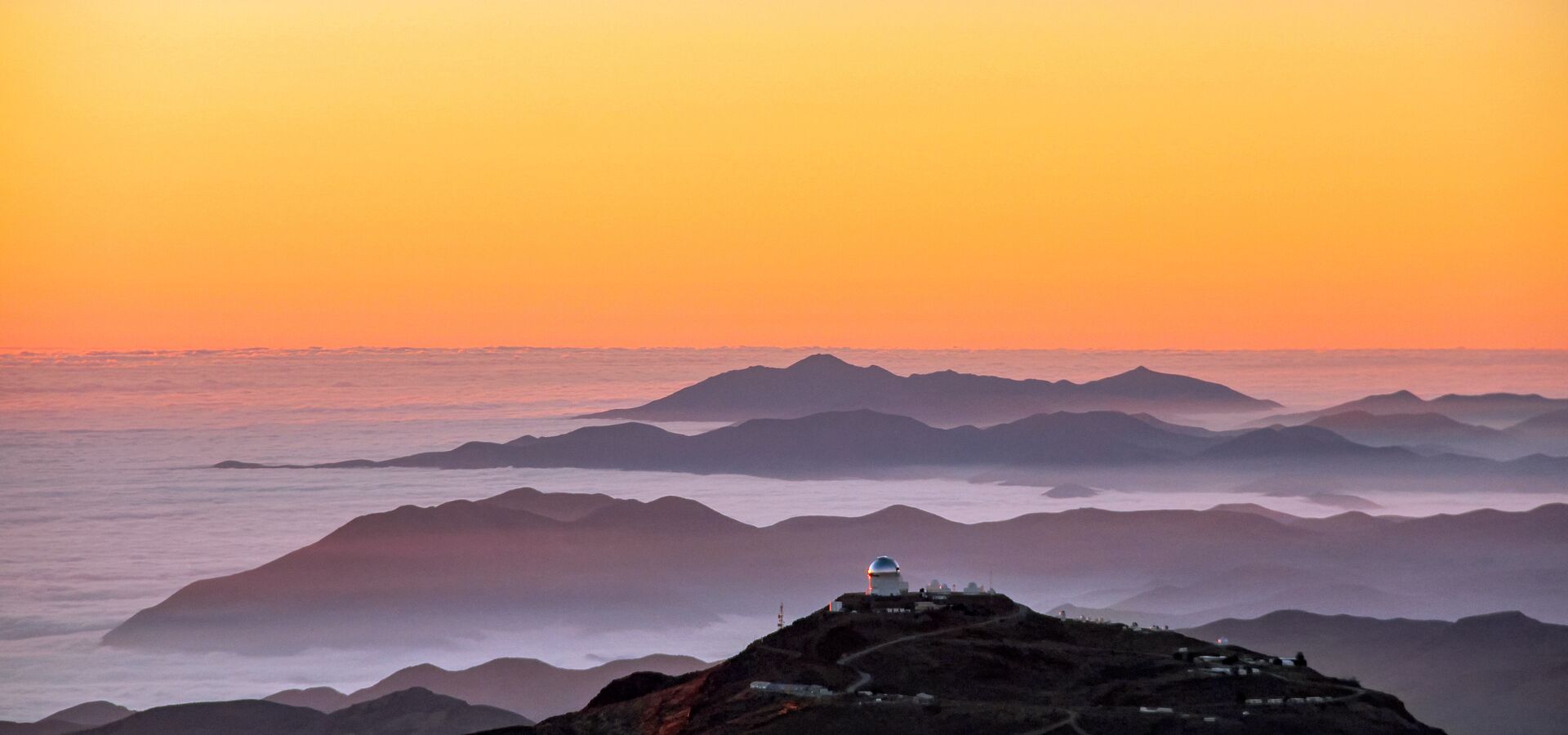 Aerial view of Cerro Tololo Inter-American Observatory (CTIO) as seen from Cerro Pachón.
NOIRLab's facilities in Chile span three locations: the local headquarters in La Serena, known as the AURA Recinto, and the two summits in Vicuña: Cerro Tololo and the neighboring mountaintop of Cerro Pachón.
Astronomical research is a key contributor to the economy of the Coquimbo Region, bringing highly skilled jobs and opportunities. This includes our host community of La Serena and Coquimbo as well as the areas around Cerro Tololo and Cerro Pachón. At all of NOIRLab's sites, cultural and societal circumstances have evolved, and continue to do so. In Chile, for example, a relatively recent movement to address societal inequities has emerged. Our local engagement programming is adapting to this movement by listening carefully to our community's interests and needs.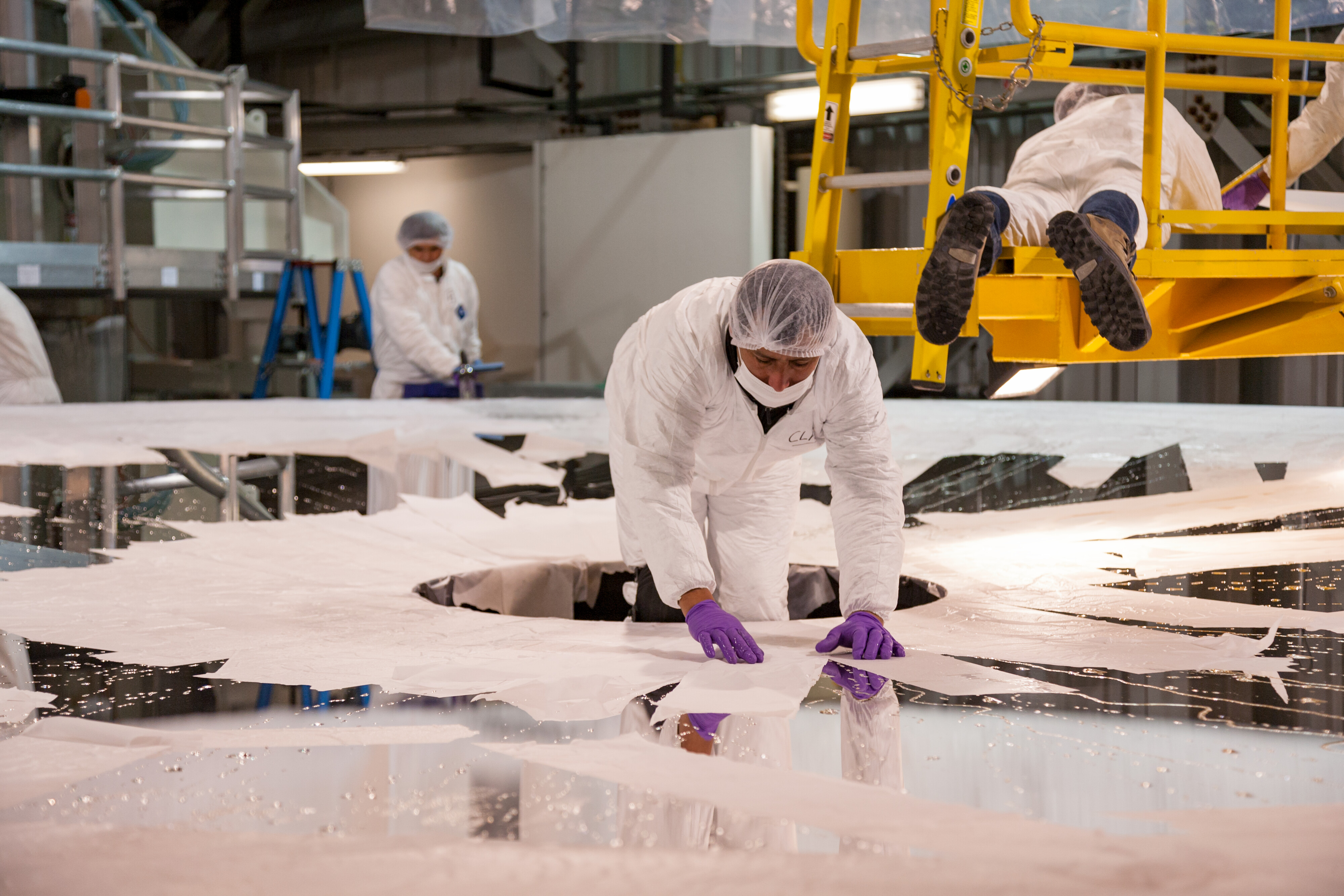 Local staff work at NOIRLab facilities in Chile; here staff prepare Gemini South's primary mirror for stripping prior to recoating in protective silver.
Because NOIRLab acts as a cultural bridge between the US and Chile, we strive to be a positive force for our local host communities in the Coquimbo Region. AURA is grateful for the opportunity to take scientific observations from Chile where people appreciate and value the night sky, as they have done for thousands of years.
AURA and NOIRLab foster the development of astrotourism in the Coquimbo Region of Chile through dark skies awareness activities, in-person and virtual workshops, and other communications activities. Astrotourism is a key ally in the protection of dark skies, and it is an essential part of the local economies. Protecting the darkness of the night sky is vitally important to both the professional observatories and the tourist observatories in the region, and we partner with local organizations such as universities and government agencies on initiatives to reduce light pollution. In a typical year, the telescopes in Chile are visited by more than 6000 tourists and students to learn about science and technology in an environmentally responsible manner.

Protecting the night sky against light pollution is an important activity for observatories in Chile. In this image taken from CTIO, light from the nearest major town, La Serena, is visible on the horizon.
The economic benefits of astronomy in Chile go far beyond just tourism. NOIRLab provides the Chilean astronomical community with preferential access to observing time at telescopes in Chile, thereby fostering local scientific development and international collaboration. NOIRLab and AURA are fundamental contributors to cutting-edge scientific and technological progress in Chile, hiring from the local workforce to run operations on sites in Chile, and enhancing knowledge and skills in the community. Together with other members of the international astronomical community, the observatories also support and promote Chilean science worldwide, attracting more researchers to the country, while outreach endeavors help to enrich the scientific education of local youth, many of whom have already engaged in astronomy/STEM careers and will become Chile's next generation of scientists.
NOIRLab and AURA in Chile currently employ approximately 230 staff in the local area, and contribute significantly to the local economy. Since 1961, AURA has managed an integrated investment in Chile that includes capital investments and operating funds.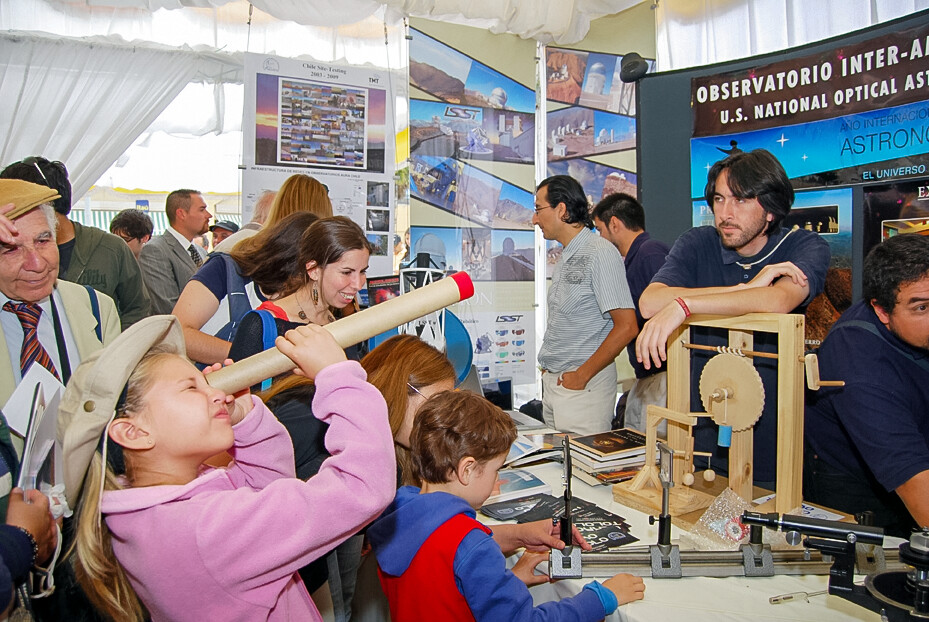 Students participating in AstroDay Chile, one of NOIRLab's premiere engagement activities in Chile.
NOIRLab — through its facilities Cerro Tololo Inter-American Observatory (CTIO), Gemini South, the SOAR Telescope, and Vera C. Rubin Observatory — has a strong, sustained commitment to local education and engagement programming in Chile. From the annual Viaje al Universo program to AstroDay, and facility tours and engagement with thousands of local students and teachers as well as tourist observatories, NOIRLab has a solid foundation in our host communities. From that foundation, NOIRLab applies continuous improvements on a permanent basis based on its regular contact with local stakeholders. To that end, establishing and expanding partnerships, as well as assessing the needs of educators, parents, and the local workforce, are paramount as we look to the future.
AURA is also committed to bringing astronomy closer to students, teachers, and the general public through its public information and education initiatives. Several projects are led by the AURA Director in Chile.
The Padre Picetti Award is inspired by Father Juan Baptista Picetti from the Seminario Conciliar school in La Serena, Chile. The Picetti Award is an annual initiative that aims to recognize leading Chilean teachers and professionals with a particular dedication to science and astronomy.
The annual La Serena School for Data Science: Applied Tools for Data-driven Sciences is an intensive 10-day program of interdisciplinary lectures focused on applied tools for handling big astronomical data.
Read more about NOIRLab's broader impacts.
NOIRLab is operated by the Association of Universities for Research in Astronomy (AURA). AURA's role is to establish, nurture, and promote public observatories and facilities that advance innovative astronomical research. In addition, AURA is deeply committed to public and educational outreach, and to diversity throughout the astronomical and scientific workforce.