Santiago Teacher Wins AURA-Padre Picetti Award
In a virtual ceremony held during AstroDay Chile events hosted by NSF's NOIRLab, the teacher received a telescope and an opportunity to visit a NOIRLab facility
29 March 2022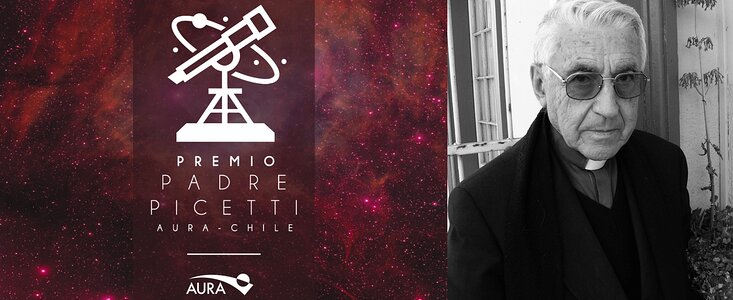 María Angélica López Ulloa from Santiago, Chile, has won the 2021 AURA-Padre Picetti Award, an annual initiative started in 2014 by the Association of Universities for Research in Astronomy (AURA) that seeks to recognize the work of exceptional teachers in Chile who help encourage new generations of scientists.
The award was presented on 25 March 2022 in a virtual ceremony broadcast to the public on YouTube by NSF's NOIRLab, which is managed by AURA. The ceremony was held as part of NOIRLab's AstroDay Chile events and the celebration of Astronomy Day in Chile, which engaged more than 1500 participants in virtual and hybrid activities hosted by NOIRLab in Chile over three days. The award ceremony was also attended by the rector of the José Miguel Carrera National Institute, Manuel Ogalde Arenas, the head of the physics department at the Colegio Seminario Conciliar, Juan Holzel, and the interim director of AURA in Chile, Hernán Bustos.
The prize includes a commemorative trophy, a 20-centimeter (8-inch) Dobsonian telescope, and a night visit to Cerro Tololo Inter-American Observatory (CTIO), a Program of NOIRLab, when conditions allow. María Angélica earned this recognition for being an incredibly active and innovative mathematics and physics teacher who has been dedicated to astronomy outreach in Santiago for more than 13 years, as the Director of the Academy of Astronomy at José Miguel Carrera National Institute since 2009, in addition to serving as Head of the Department of Physics of the same institution between 2017 and 2018.
The AURA-Padre Picetti Award is inspired by the priest Juan Baptista Picetti of Colegio Seminario Conciliar, a renowned religious and enthusiastic teacher who dedicated his life to motivating the passion for science in youth and children. Padre Picetti passed away in August of 2021.
"We are very happy that the seventh edition of this award has been given to a professor from the José Miguel Carrera National Institute," said Bustos. "This will allow María Angélica López to continue motivating a new generation of children, who will learn about the importance of astronomy for Chile and understand how important it is to protect its precious dark skies."
Regarding her award, María Angélica López Ulloa said, "I feel very happy, excited, and gratified. I feel representative of each and all those professors who are worthy of this award, for their dedication, teaching, dissemination, and efforts, in motivating the area of astrophysics in my country. I thank AURA in Chile for having seen in me the conditions for this recognition of a job, which for years, I have exercised with great dedication and enthusiasm."
Links
Contacts
Amanda Kocz
NSF's NOIRLab Communications 
T: +1 520 318 8591
Email: amanda.kocz@noirlab.edu 
Manuel Paredes
Outreach Manager Chile
T: +56 512 205 671
Email: manuel.paredes@noirlab.edu