NOIRLab Ambassador program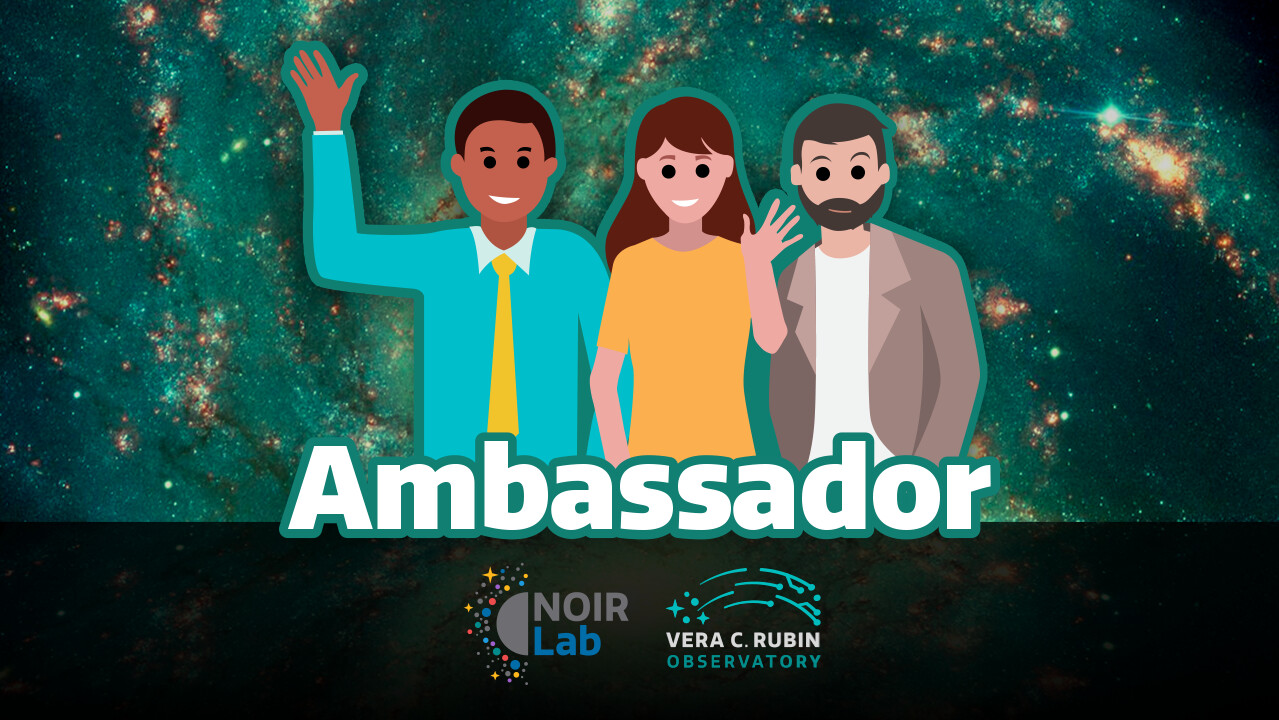 The NOIRLab Ambassador program is a joint initiative with Vera C. Rubin Observatory Construction that aims to increase public engagement with NOIRLab and its Programs, including Rubin Observatory, by working together with motivated and enthusiastic volunteers to share the excitement and science of our organizations. 
Ambassadors can be NOIRLab or Rubin staff and scientists as well as external enthusiasts who support our mission in astronomy. They will contribute to NOIRLab's public engagement efforts in addition to sharing NOIRLab and Rubin science with their own communities in order to spread our mission and science to new audiences. 
Ambassador's Profile
NOIRLab Ambassadors should have at least one of these characteristics:
Personable, creative, enthusiastic and approachable
Confident in public speaking in English or Spanish
Have an interest in promoting public awareness of NOIRLab's astronomy and related science
Willing to represent NOIRLab and its Programs, including Rubin Observatory,in a professional manner and promote NOIRLab's planned initiatives and activities.
Willing to post NOIRLab provided content (e.g. photos, stories, notice of upcoming events/talks) on their social media accounts and webpages.
Able to provide creative content that can be used in social media and internal communication platforms in coordination with the Communications team.
How to join the program
Please indicate your interest in the following areas in this form (may be more than one area):
Audiovisuals Ambassador (Image and Video)
Music Ambassador
Art Ambassador (painting, drawing, knitting, etc.)
Education Ambassador
Social Media Ambassador (influencers, etc.)
Dark Skies Ambassadors
NOIRLab's Ambassador program is open to NOIRLab and Rubin Construction staff, affiliates and scientists as well as external people.
Selection process
Candidates will go through a selection process with a committee that will review their application and decide the selected candidates. The committee will be formed by the NOIRLab Head of Communications, Education and Engagement; NOIRLab Communications Manager; Rubin EPO representative; Rubin social media coordinator; and NOIRLab social media coordinator. The application remains open, with a review process of one month. We will notify new ambassadors via email.
Time commitment
This is a flexible role to suit your availability, but we do require a one-year commitment as minimum time. Ambassadors will be contacted as appropriate and offered the opportunity to renew their participation each year depending on their contributions to the Ambassador program.They will also be able to help us welcome new ambassadors.
What to expect
Once the Ambassador has been selected, they will receive the following benefits:
Ambassadors Benefits:
Social media training
Approved social media template posts
Ambassador's content will be published in our website and social media channels with their specific credit
Special digital folder
Ambassadors meetups (virtual, quarterly)
Annual gift and Welcome Kit
Access to Ambassador community
If opportunity permits: Occasional special visits to the summit (Gemini North, Kitt Peak, Cerro Tololo or Cerro Pachón) 
Seniority (more than 3 years) in the program will also include:
Special NOIRLab Blog post featuring the Ambassador's work
Special video of our Ambassador published in our social media
What Ambassadors will deliver
Once selected, the Ambassador will contribute photos, videos and other creative output reflective of their experiences at NOIRLab that will be shared, and they will collaborate with the social media team to coordinate sharing of these stories to their own networks. If you have any questions, please contact NOIRLab's Social Media Coordinator Camila Ibarlucea (camila.ibarlucea@noirlab.edu)
NOIRLab Ambassadors