Nearby Galaxy shows spectacular X-ray tails with embedded active star formation
22 February 2010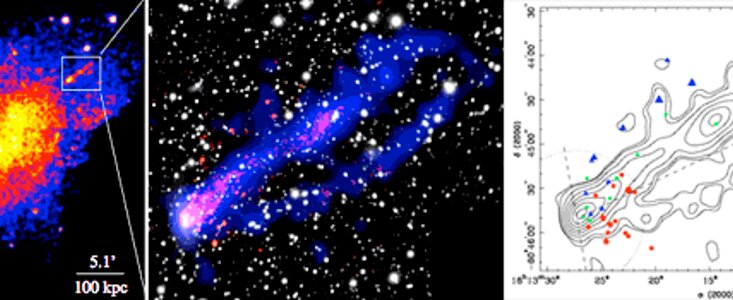 In one of the nearest giant clusters of galaxies, Abell 3627, astronomers have reported finding a galaxy with two distinct tails of gas. Of particular significance, there are unambiguous signs of current star formation in this gas tail, providing the first evidence that star formation can actively take place in the cold intergalactic medium. These results challenge ideas based on the current computer simulations and modeling.
This gas tail, emanating from a galaxy catalogued as ESO 137-001, was originally observed by these astronomers several years ago using a multitude of telescopes, including NASA's Chandra X-ray Observatory and the Southern Astrophysical Research (SOAR) telescope in Chile. Chandra X-ray observations, which include x-ray point sources, have identified candidate H II regions which could be sites of active star formation, and follow-up spectroscopy confirmed the presence of such star formation. The spectroscopic observations, made with NOAO time on Gemini South, yielded spectra of the intracluster HII regions and X-ray binaries.
The team responsible include Ming Sun, the PI & Craig Sarazin (U of Virginia), Megan Donahue & Mark Voit, Michigan State University, E. Roediger, Jacobs University, Germany, and W. Forman & C. Jones, Harvard-Smithsonian Center for Astrophysics. This work is reported in the 2010 Jan 10 Astrophysical Journal.