DECam image of the bulge of the Milky Way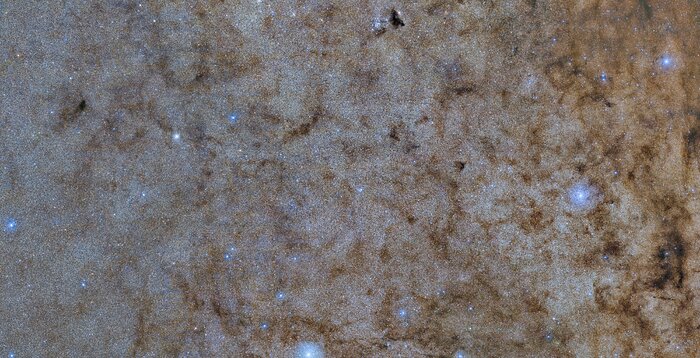 This color-composite shows a main part of the new Blanco DECam Bulge Survey of 250 million stars in our galaxy's bulge. The 4 x 2 degrees excerpt can be explored in all its whopping 50,000 x 25,000 pixels in this zoomable version.
In the image interstellar dust and gas seemingly acts like a red "filter" in front of the background stars, scattering the blue light away. Since we are surrounded by dust and gas in the Milky Way, this scattering effect is important to many parts of astronomy and is known as interstellar reddening.
DECam was primarily funded by the U.S. Department of Energy.
Credit:
CTIO/NOIRLab/DOE/NSF/AURA
Acknowledgment:
Image processing: W. Clarkson (UM-Dearborn), C. Johnson (STScI), and M. Rich (UCLA), Travis Rector (University of Alaska Anchorage), Mahdi Zamani & Davide de Martin.
About the Image
| | |
| --- | --- |
| Id: | noirlab2027a |
| Type: | Observation |
| Release date: | Oct. 27, 2020, 7 a.m. |
| Related releases: | noirlab2027 |
| Size: | 49236 x 25199 px |
---
About the Object
---
Image Formats
---
Zoomable
---
Wallpapers
---
Coordinates
| | |
| --- | --- |
| Position (RA): | 18 4 3.59 |
| Position (Dec): | -28&deg 45' 4.47" |
| Field of view: | 215.24 x 110.16 arcminutes |
| Orientation: | North is 0.0° left of vertical |
---