Dark Shrouds in Orion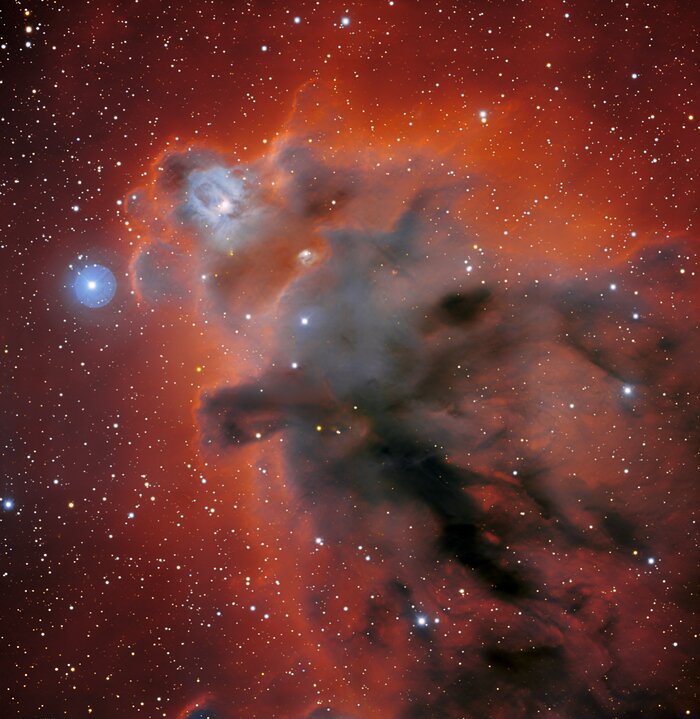 The shadowy clouds of LDN 1622 are pictured in this observation from the Nicholas U. Mayall 4-meter Telescope at Kitt Peak National Observatory (KPNO), a Program of NSF's NOIRLab. This image was captured in 2018 by the Mosaic-3 instrument, a wide-field camera used to capture large swaths of the night sky from Kitt Peak in Arizona.
Mosaic-3 has since been retired to make way for the Dark Energy Spectroscopic Instrument
(DESI), the most powerful multi-object survey spectrograph in the world. This swap highlights one of the benefits of ground-based astronomy: the ability to upgrade and replace instruments as new technologies become available.
LDN 1622 is a dark nebula, so called because these dense interstellar clouds of gas and dust blot out light from background objects, appearing as ink-dark clouds against a backdrop of stars. This enigmatic cosmic cloud lies 1300 light-years from Earth in the nearby Orion complex, a star-forming region thronging with young stars and other dark nebulae.
This observation was taken before the 2022 Contreras Fire, which affected KPNO.
Credit:
KPNO/NOIRLab/NSF/AURA/T. A. Rector
Image processing: T.A. Rector (University of Alaska Anchorage/NSF's NOIRLab), M. Zamani (NSF's NOIRLab) & D. de Martin (NSF's NOIRLab)
About the Image
| | |
| --- | --- |
| Id: | iotw2325a |
| Type: | Observation |
| Release date: | June 21, 2023, noon |
| Size: | 3513 x 3609 px |
---
About the Object
---
Image Formats

Fullsize Original

Large JPEG
1.8 MB

Screensize JPEG
237.7 KB
---
Zoomable
---
Wallpapers
---
Coordinates
| | |
| --- | --- |
| Position (RA): | 5 54 29.26 |
| Position (Dec): | 1&deg 48' 28.49" |
| Field of view: | 36.59 x 37.59 arcminutes |
| Orientation: | North is 180.0° right of vertical |
---