Multiple Green Flashes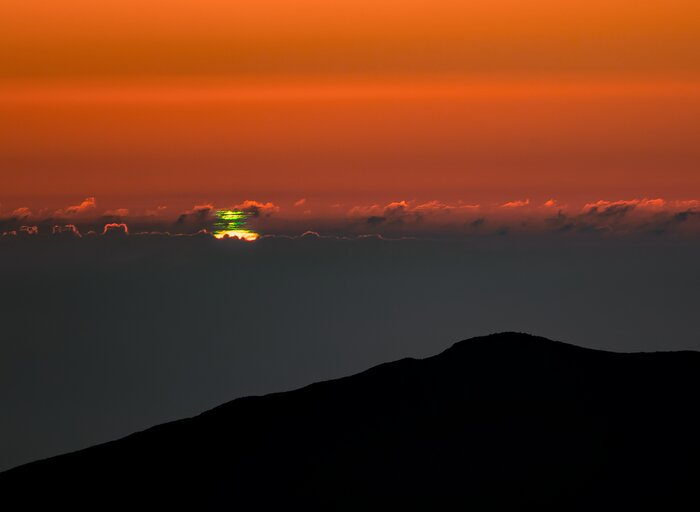 From the high altitude of Cerro Tololo Inter-American Observatory (CTIO) in Chile, two astrophotographers captured the elusive sunset phenomenon known as the green flash. This stunning trick of light occurs at sunset and sunrise when light from the Sun travels through the thickest part of Earth's atmosphere. Acting like a prism, Earth's atmosphere bends, or refracts, the light and separates it into its component wavelengths. Blue and violet light are scattered by the atmosphere, while red, orange and yellow are refracted below the solar disk below the horizon, leaving the green light the most visible during the few seconds that the Sun disappears below the horizon. 
Here, though, is another uncommon phenomenon. Distinct thermal layers above the Pacific Ocean led to a Fata Morgana mirage displaying several green flashes. Two photographers from the recent NOIRLab 2022 Photo Expedition jointly worked the controls of the camera to quickly capture the elusive phenomenon.
This image was the NASA Astronomy Picture of the Day on 28 March 2023.
Credit:
CTIO/NOIRLab/NSF/AURA/T. Slovinský & P. Horálek (IoP Opava)
About the Image
| | |
| --- | --- |
| Id: | iotw2313a |
| Type: | Photographic |
| Release date: | March 28, 2023, 7 a.m. |
| Size: | 3204 x 2344 px |
---
About the Object
---
Image Formats

Fullsize Original

Large JPEG
717.3 KB

Screensize JPEG
76.7 KB
---
Zoomable
---
Wallpapers
---