The Cosmic Jewels of Sextans A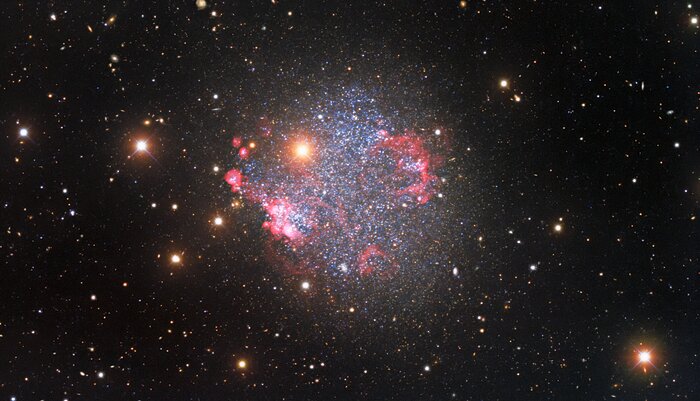 This glittering image captured by the Nicholas U. Mayall 4-meter Telescope at Kitt Peak National Observatory, a Program of NSF's NOIRLab, shows the irregular dwarf galaxy Sextans A, which lies around 4.4 million light-years from Earth. This galaxy, which is only a fraction of the size of the Milky Way, has been contorted by successive waves of supernova explosions into the roughly square shape we see from Earth — a cosmic jewelry box filled with bright young stars.
Sextans A is displayed in style in this gorgeous image, which showcases the irregular shape of this dwarf galaxy. Irregular galaxies such as Sextans A don't have the regular appearance of spiral or elliptical galaxies, but instead display a range of weird and wonderful shapes. These galaxies are relatively small, and they are often susceptible to distortions resulting from close encounters or collisions with larger galaxies — sometimes leading to their irregular shapes. Sextans A is particularly small, measuring only about 5000 light-years across.
Also watch this video for more insights about the image.
Credit:
KPNO/NOIRLab/NSF/AURA
Data obtained and processed by: P. Massey (Lowell Obs.), G. Jacoby, K. Olsen, & C. Smith (AURA/NSF)
Image processing: T.A. Rector (University of Alaska Anchorage/NSF's NOIRLab), M. Zamani (NSF's NOIRLab) & D. de Martin (NSF's NOIRLab)
About the Image
| | |
| --- | --- |
| Id: | iotw2126a |
| Type: | Observation |
| Release date: | June 30, 2021, noon |
| Size: | 3425 x 1964 px |
---
About the Object
---
Image Formats

Fullsize Original

Large JPEG
2.5 MB

Screensize JPEG
226.5 KB
---
Zoomable
---
Wallpapers
---
Coordinates
| | |
| --- | --- |
| Position (RA): | 10 10 59.99 |
| Position (Dec): | -4&deg 42' 0.19" |
| Field of view: | 15.42 x 8.84 arcminutes |
| Orientation: | North is -0.0° left of vertical |
---