Portrait of a Needle Galaxy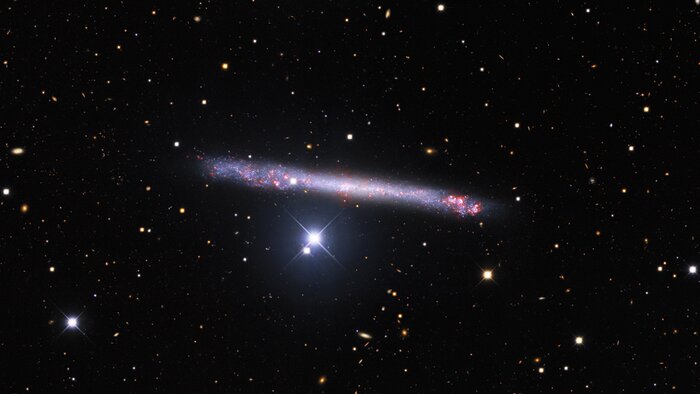 The remarkably thin galaxy IC 2233 is featured in this image from the Nicholas U. Mayall 4-meter Telescope at Kitt Peak National Observatory, a Program of NSF's NOIRLab. IC 2233's needle-thin profile is due to both its structure and its orientation towards Earth. The galaxy's orientation — known to astronomers as inclination — is almost exactly side-on, making this one of the flattest galaxies known. The exposure of this particular image is deep and the entire field littered with galaxies of various types of inclinations.  As well as lying flat from our point of view, IC 2233 also lacks the prominent bulge that fattens the profile of spiral galaxies such as Andromeda and the Milky Way.  The wafer-thin profile of this celestial needle has been fascinating observers for nearly 150 years — IC 2233 was first discovered in 1874 by the Welsh amateur astronomer Isaac Roberts, one of the pioneers of astrophotography. 
Credit:
KPNO/NOIRLab/NSF/AURA. 
Acknowledgments:
PI: M T. Patterson (New Mexico State University)
Image processing: Travis Rector (University of Alaska Anchorage), Mahdi Zamani & Davide de Martin
About the Image
| | |
| --- | --- |
| Id: | iotw2101a |
| Type: | Observation |
| Release date: | Jan. 6, 2021, 8 a.m. |
| Size: | 2551 x 1435 px |
---
About the Object
---
Image Formats
---
Zoomable
---
Wallpapers
---
Coordinates
| | |
| --- | --- |
| Position (RA): | 8 13 59.84 |
| Position (Dec): | 45&deg 44' 37.18" |
| Field of view: | 11.13 x 6.26 arcminutes |
| Orientation: | North is 89.9° left of vertical |
---