IAU Centre for the Protection of the Dark and Quiet Sky from Satellite Constellation Interference
---
Thursday, 03 February 2022 11 a.m. — noon MST
Your time: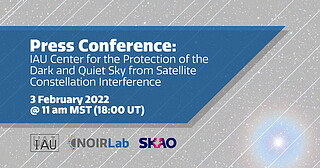 Online event
View slides
|
On 3 February 2022 leaders of the International Astronomical Union (IAU), NSF's NOIRLab, and the SKA Observatory (SKAO) will hold a virtual press conference to announce the newly established IAU Centre for the Protection of the Dark and Quiet Sky from Satellite Constellation Interference. The press conference, to be conducted via Zoom, will begin on 3 February 2022 at 11:00 a.m. MST (18:00 UT) and last at most one hour. Registration is free to accredited media representatives; instructions appear below.
The organizations hosting the center and the directors have been decided. This press conference will announce these details. 
Briefing Participants
Debra Elmegreen, IAU
Connie Walker, NSF's NOIRLab/IAU
Piero Benvenuti, University of Padova/IAU
Federico Di Vruno, SKAO
Meredith Rawls, University of Washington/Vera C. Rubin Observatory
Richard Green, University of Arizona
Jessica Heim, University of Southern Queensland
Registration
Bona-fide journalists can register for the press briefing here. Upon approval by the NOIRLab and SKAO Press Offices, you will receive an email with instructions on how to connect via Zoom. The deadline to register is 3 February at 8 a.m. MST (15:00 UT). 
Space at the press briefing is limited. If we are not able to accommodate you on Zoom, you may watch the briefing live-streamed on the NOIRLab YouTube channel or the IAU YouTube channel, but you will not be able to ask questions.
Video