Hands On Universe Conference: TAC -- To Go! Educator Workshop
---
Wednesday, 24 August 2022 noon — 2 p.m. MST
Your time: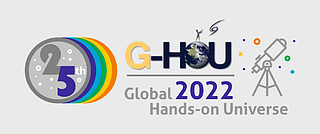 Online event
Star Educators
Mark Newhouse, Jameeka Marshall, Justine Schaen, Rob Sparks and Connie Walker (NOIRLab)
Bring the excitement of scientific discovery to your classroom and provide learners with opportunities to explore astronomical data using the same tools as professional astronomers. The Teen Astronomy Café — To Go! program provides students with a window to our Universe, using Python Notebooks to explore topics such as Gravitational Lensing, Breaking The Solar System, Exoplanet Atmospheres, Black Holes, and Black Hole Orbits.  All of the materials are available free of charge and run on any modern browser with no additional software required. 
This workshop will introduce educators to all of the materials available in the Teen Astronomy Café — To Go! program, cover the logistics of organizing instruction, and explore in-depth one of the Python Notebooks. No coding background is necessary!