Rubin Digest 14 June 2022
14 June 2022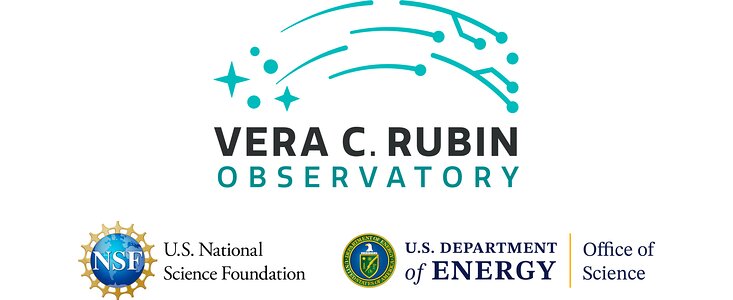 Project & Science News 
Reminder: June 20th is a US Federal holiday, and a holiday for Rubin (AURA) employees in the US. This holiday, Juneteenth, commemorates the emancipation of enslaved African-Americans and celebrates African-American culture. 
June is Pride Month, please join us in recognizing the contributions of our colleagues who identify as LGBTQIA+. We celebrate the diversity of the Rubin community and continue striving to create an inclusive and supportive space for everyone who wants to participate in Rubin science. Learn more about Rubin DEI initiatives on our website.
Rubin Observatory is participating at the American Astronomy Society summer meeting (AAS#240) happening this week (June 12-16) in Pasadena, CA. Visit our exhibit at Booth #301 if you're attending the meeting, and follow us on Rubin social media accounts including twitter, where we'll provide updates about sessions featuring Rubin Observatory content.
If you haven't registered for the Rubin 2022 Project and Community Workshop (PCW), we encourage you to register today! The workshop will be held August 8-12, at the Ritz-Carlton Dove Mountain in Tucson, AZ. Register on the meeting website before July 8th to reserve your Rubin 2022 t-shirt. 
The LSST@Europe4 conference has been announced; it will take place on October 25-28 in Rome, Italy, and will be conducted as a hybrid meeting to enable access to remote participants. Registration will open on June 15th, details are available on the LSST@Europe4 meeting website. 
The last of the fiber-optic cables leading to the Top End Assembly (TEA) of the telescope mount was installed and tested on June 9th; these cables will control the camera and move data from the top of the telescope to the summit computer room, a distance of about 500 feet (150  meters). The IT-Devops team on Cerro Pachón has now finished installing all the fiber-optic cables necessary for the Data Acquisition System for the LSST Camera. A photo of the TEA cable installation can be viewed in the Gallery.
A new set of staff highlights has been published for June; read about your colleagues Emmanuel Gangler, Claire Juramy, Kevin Reil, and Eli Rykoff on the Rubin project website. 
On May 15th, a total lunar eclipse was visible from the summit of Cerro Pachón. A time-lapse video of Rubin Observatory throughout the night of the eclipse, made using images from the summit webcam, is now available on our YouTube channel.
Rubin Observatory swag items, including t-shirts, coffee mugs, tote bags, and more, are available for purchase in our not-for-profit online store. 
Rubin in the Media:
A recent New York Times article, "Killer Asteroids are Hiding in Plain Sight. A New Tool Helps Spot Them," describes the development of a new algorithm that identifies previously undetected asteroids in astronomical images. The article features quotes from Mario Juric, a member of the Rubin DM team at University of Washington; and Zeljko Ivezic, Director of Rubin Observatory Construction.
Operations Updates:
Data Preview 0.2: Everyone who applied to participate in DP0.2 should have received an email invitation from Melissa Graham on May 31st (please check your spam folder and contact Melissa Graham if you can't find it). The timeline for the transition from DP0.1 to DP0.2 provides more information about when the DP0.2 data sets, tutorials, and documentation will become available, and when the live virtual seminars will be.
LSST Corporation News:
An LSSTC-funded workshop, "Boom! A workshop on explosive transients with LSST," will take place July 25-29th at the University of Illinois Urbana-Champaign. Registration is free and open to all professional astronomers involved in the LSST. More information is available on the meeting website, the deadline to register is June 25th. 
Announcements & Opportunities:
Erfan Nourbaksh joined the Data Management (DM) subsystem on June 1st as Science Pipelines Scientist. Based at Princeton, Erfan will contribute to the development of the Rubin Science Pipelines with the DM team.
In June, the following individuals joined the pre-Operations Data Production team: Orion Eiger (UC Santa Cruz); Edward Kravakis (Brookhaven National Laboratory); and Natalia Ratnikova, Murthy Nunna, and Mitch Renfer (Fermilab).
Johan Bregeon, Cyrille Doux, Marine Kuna, Nicoleta Pauna, and Guillemin Thibault (all based at IN2P3 in France) joined the Rubin team in June. Their group will be working on commissioning of the focal plane, the LSST Camera, and the Rubin Auxiliary Telescope.
Current opportunities with Rubin can be found on the Rubin hiring website.
Info for Project Members:
If you'd like to schedule a one-on-one meeting with Victor or Zeljko, please fill out this form to indicate your preferred (and backup) date and time. 
There is also an anonymous "suggestion box" for anyone to offer feedback at this link. 
Upcoming Meetings with Rubin Observatory Involvement:
(those with an asterisk* are LSSTC funded):
2022

June 12-16

AAS 240 Summer Meeting, Pasadena, CA

June 20-24

Bayesian Deep Learning workshop*, Paris, France

July 17-22

SPIE Astronomical Telescopes & Instrumentation Meeting, Montreal, Canada

July 25-29

Boom! A Workshop on Explosive Transients with LSST*, Urbana-Champaign, IL

July 26-28

Supermassive Black Hole Studies with the Legacy Survey of Space and Time - 2022: Getting Ready for Rubin Operations*, virtual

August 1-5

DESC Collaboration Meeting*, Kavli Institute for Cosmological Physics, University of Chicago

August 1-12

La Serena School for Data Science: "Applied Tools for Data-driven Sciences" 

August 8-12

Rubin Project and Community Workshop 2022, Tucson, AZ

September 26-30

RR Lyrae and Cepheid stars meeting: "Large-scale Surveys as Bridges between Spectroscopy and Photometry," Island of La Palma, Spain

October 25-29

LSST@Europe4*, Rome, Italy (hybrid)
2022

July 8 

Register for Rubin PCW (to ensure t-shirt)

July 15

Reserve hotel for Rubin PCW

July 22 

Register for Rubin PCW (final deadline)