geminiann10021 — Announcement
Gemini Hosts Workforce Diversity Meeting
14 December 2010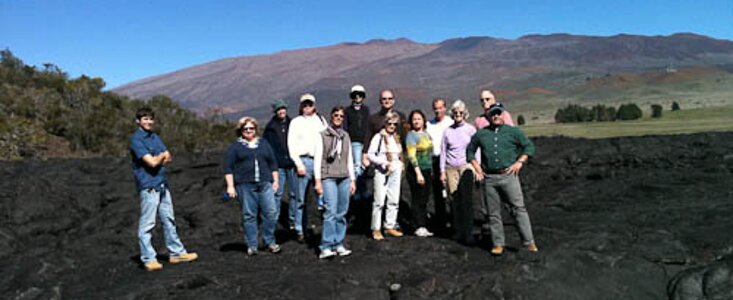 On December 6-8, 2010 about a dozen representatives from the Association of Universities for Research in Astronomy (AURA) converged at Gemini's base facility in Hilo, Hawai'i to discuss a broad range of topics related to diversity in the workforce. Participating institutions included the Space Telescope Science Institute (STScI), the Advanced Technology Solar Telescope (to be built on Haleakala Maui), The National Optical Astronomy Observatory (NOAO), the National Solar Observatory, and Gemini. Representatives from several academic institutions across the United States also participated, providing expert opinion and sharing experiences.
This meeting is part of a coordinated effort to match the scientific workforce at the AURA centers, with the demographics of the evolving workforce. The twice-annual meeting brings participants together to review current activities, set future directions and understand issues related to workforce diversity. The agenda ranged from the issue of inspiring a diverse cross-section of youth to pursue careers in science and engineering, to topics like unconscious bias in hiring and promoting staff.
The meeting began with participants traveling to the summit area of Mauna Kea to visit the Gemini North telescope and experience the thin air and related challenges involved in running an observatory at nearly 14,000 feet elevation (4,200 meters). While visiting the mountaintop facility the participants enjoyed an in-depth orientation to the mountain's natural and cultural history as well as the significance of the mountain to Hawaiians and astronomers (see photo caption).
During the following two days, sessions centered on the challenges of maintaining a diverse workforce in gender, ethnicity, socio-economic background, and even age (including such topics as mentoring junior staff and interns). Bernice Durand in summing up the meeting commented "you lead, co-lead, and partner in outstanding programs with local schools/teachers/children/parents; with the Hawai`i education system and business; and with the Akamai Workforce Initiative."
While there were many lessons learned and opinions shared, there was an commitment made from all to focus on developing applicant pools and selection processes across AURA institutions.
Chaired by Bernice Durand, Professor of Physics Emerita and Vice Provost for Diversity and Climate Emerita at the University of Wisconsin-Madison, the meeting was organized by a Gemini-team led by Human Resources Manager Neil Barker and staff of AURA.