Astronomy Outreach Initiative Encourages Participation Throughout the Month of April
Community day to showcase award-winning planetarium program
12 April 2023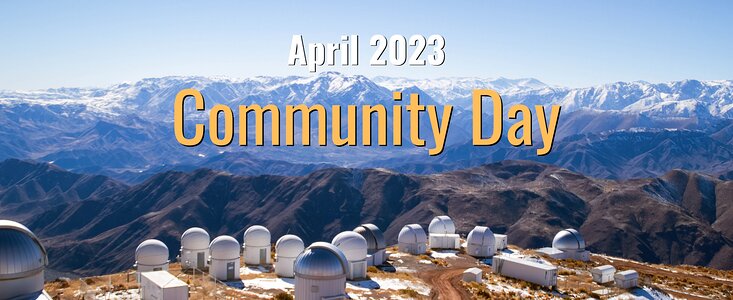 Big Astronomy — a multifaceted outreach project that includes the award-winning planetarium show Big Astronomy: People, Places, Discoveries — is hosting a community day on Astronomy Day, 29 April 2023, as well as month-long activities in celebration of astronomy. Individuals and organizations are invited to participate by holding events in locations where the award-winning program will be presented publicly. 
Funded by the National Science Foundation, Big Astronomy partners with multiple organizations as a research and outreach project that highlights the diverse people who enable discoveries at world-class observatories in Chile. The team's planetarium show features several Programs of and staff with NSF's NOIRLab, including Cerro Tololo Inter-American Observatory and Gemini South and Vera C. Rubin Observatory on Cerro Pachón. Various formats — such as fulldome or HD flat screen — are available to license for free or at a very low cost in English, Spanish, German, and French.
Throughout April, the broader Big Astronomy project will be presenting hands-on activities for local, regional, and national communities to engage with alongside the planetarium show. New resources will also support accessibility for blind and visually-impaired people, as well as captions for the hearing impaired. Additional educational resources are available in both English and Spanish.
Those who would like to participate by hosting an event for Big Astronomy Community Day can register here. Planetarians, informal science educators, teachers, and amateur astronomers are especially welcome to participate. A prize draw will be held for people who submit a photo or video involving their registered event, with the chance to win one of three telescopes: a Celestron NexStar 6SE Telescope, Meade Coronado P.S.T Solar Telescope, or Radio Jove Complete 2.0 Kit. Submissions are accepted by 10 May 2023, and the draw will be on 15 May. Winners will be announced on the Big Astronomy website.
The University of Arizona in Tucson, Arizona will be holding one such event at the Flandrau Science Center and Planetarium on 29 April 2023 from 6-10 pm, where there will be a debut screening of the Big Astronomy planetarium show. Visitors will also have the chance to participate in hands-on tactile activities designed for a wide audience, engage with NOIRLab staff, and peer through telescopes from other astronomy organizations in Tucson. Tickets are available online here.
More information 
NSF's NOIRLab (National Optical-Infrared Astronomy Research Laboratory), the US center for ground-based optical-infrared astronomy, operates the International Gemini Observatory (a facility of NSF, NRC–Canada, ANID–Chile, MCTIC–Brazil, MINCyT–Argentina, and KASI–Republic of Korea), Kitt Peak National Observatory (KPNO), Cerro Tololo Inter-American Observatory (CTIO), the Community Science and Data Center (CSDC), and Vera C. Rubin Observatory (operated in cooperation with the Department of Energy's SLAC National Accelerator Laboratory). It is managed by the Association of Universities for Research in Astronomy (AURA) under a cooperative agreement with NSF and is headquartered in Tucson, Arizona. The astronomical community is honored to have the opportunity to conduct astronomical research on Iolkam Du'ag (Kitt Peak) in Arizona, on Maunakea in Hawai'i, and on Cerro Tololo and Cerro Pachón in Chile. We recognize and acknowledge the very significant cultural role and reverence that these sites have to the Tohono O'odham Nation, to the Native Hawaiian community, and to the local communities in Chile, respectively.
Links
Contacts
Tim Spuck
Director of Education and Public Engagement
Associated Universities Inc.
Email: tspuck@aui.edu
Charles Blue
Public Information Officer
NSF's NOIRLab
T: +1 202 236 6324
Email: charles.blue@noirlab.edu