Public Visits Restarting at NSF's NOIRLab Cerro Tololo in Chile
World-class observatory funded by NSF welcomes public back to share in the excitement of discovery
14 December 2022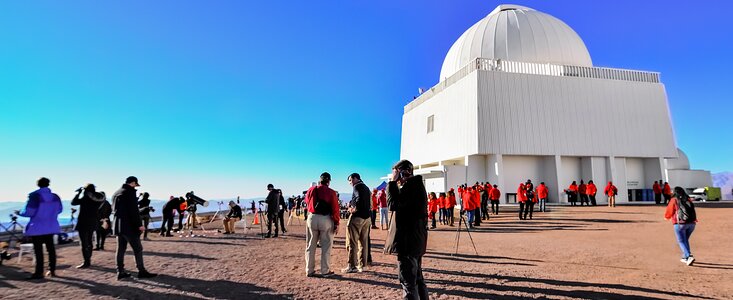 NSF's NOIRLab is proud to announce the planned restart of public visits at its Cerro Tololo Inter-American Observatory (CTIO) in Chile.
Visits to our scientific facilities are only one of many ways NOIRLab helps share the wonders of discovery and the fascinating ways astronomers explore the Universe. The NOIRLab visit experiences reveal what it is like at the forefront of astronomy research. Visitors can experience the inside of the domes and buildings that host our telescopes, learn about their discoveries and technology, and understand the significance of dark skies during observational nighttime events. Located near remote mountain summits across the globe, these telescopes seek the answers to humankind's most important and profound questions. It is our hope to be able to share this journey with everyone in the most engaging way possible.
Following the Contreras Fire, Kitt Peak National Observatory regrettably remains closed to the public in general and will only reopen when Arizona Highway 386 to Kitt Peak has been fully brought back to its condition prior to the fire. We are optimistic that this will happen early in the calendar year 2023. 
Visits at Gemini North in Hawai'i are scheduled to restart in early 2023.
By taking extra precautionary measures with regard to COVID-19, it is possible to restart the visits at CTIO while staying safe. In general, masking, proof of vaccinations, and social distancing will be required at all sites. 
If you would like to book a visit, please go to the Public Visits webpage and look for openings. Tickets may be booked after reading the Safety, Conduct, and Liability regulations. These sites are located in remote places with difficult access, continuous operations, and challenging weather conditions. Please be aware that appointments may be canceled by NOIRLab at any time as a result of operational problems, bad weather, or any other unforeseen circumstances. Public visitors will be required to provide their own transportation.
For those who are unable to come in person, we have launched comprehensive and exciting virtual tours. From the comfort of your home, you can visit seven different virtual locations featuring stunning 360-degree panoramic views of NOIRLab's facilities. PC and Mac, iOS and Android phones, and virtual reality headsets are all supported.
More information 
NSF's NOIRLab(National Optical-Infrared Astronomy Research Laboratory), the US center for ground-based optical-infrared astronomy, operates the International Gemini Observatory(a facility of NSF, NRC–Canada, ANID–Chile, MCTIC–Brazil, MINCyT–Argentina, and KASI–Republic of Korea), Kitt Peak National Observatory (KPNO), Cerro Tololo Inter-American Observatory (CTIO), the Community Science and Data Center (CSDC), and Vera C. Rubin Observatory(operated in cooperation with the Department of Energy's SLACNational Accelerator Laboratory). It is managed by the Association of Universities for Research in Astronomy (AURA) under a cooperative agreement with NSF and is headquartered in Tucson, Arizona. The astronomical community is honored to have the opportunity to conduct astronomical research on Iolkam Du'ag (Kitt Peak) in Arizona, on Maunakea in Hawai'i, and on Cerro Tololo and Cerro Pachón in Chile. We recognize and acknowledge the very significant cultural role and reverence that these sites have to the Tohono O'odham Nation, to the Native Hawaiian community, and to the local communities in Chile, respectively.
Links
Contacts
Leonor Opazo
NSF's NOIRLab
Email: leonor.opazo@noirlab.edu 
Carolina Vargas
NSF's NOIRLab
Email: carolina.vargas@noirlab.edu 
Charles Blue
Public Information Officer
NSF's NOIRLab
T: +1 202 236 6324
Email: charles.blue@noirlab.edu