ann22030 — Announcement
Gemini North Shutdown Extended Following Incident During Mirror Movement
On Thursday 20 October 2022 the 8.1-meter primary mirror of Gemini North suffered damage to two areas on its outer and bottom edge
1 November 2022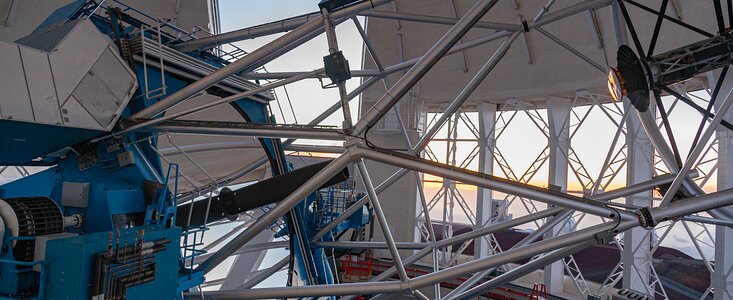 On Thursday 20 October 2022 the 8.1-meter primary mirror of the Gemini North telescope, part of the International Gemini Observatory and operated by NSF's NOIRLab, suffered damage to two areas of its outer edge in a section that is outside the area collecting light for observations. There were no injuries associated with this event. 
While moving the primary mirror in preparation for stripping its reflective protected silver coating, it contacted an earthquake restraint on the facility's wash cart, chipping the edge. A stop-work order was issued immediately and a thorough investigation by NOIRLab, Gemini, and external experts has begun to determine what happened and what is needed to repair the mirror. 
A comprehensive lessons-learned report will also be prepared to prevent similar events in the future. An Independent Review Board, chaired by Jim Oschmann, will review and approve the results of the investigation.
This process will proceed at a deliberate and careful pace; our primary concern is the safety of our staff. The timescale for Gemini North's return to operations will be determined by the findings of the investigation and the repair plans. 
We will provide further updates as they become available. 
More information 
NSF's NOIRLab (National Optical-Infrared Astronomy Research Laboratory), the US center for ground-based optical-infrared astronomy, operates the international Gemini Observatory (a facility of NSF, NRC–Canada, ANID–Chile, MCTIC–Brazil, MINCyT–Argentina, and KASI–Republic of Korea), Kitt Peak National Observatory (KPNO), Cerro Tololo Inter-American Observatory (CTIO), the Community Science and Data Center (CSDC), and Vera C. Rubin Observatory (operated in cooperation with the Department of Energy's SLAC National Accelerator Laboratory). It is managed by the Association of Universities for Research in Astronomy (AURA) under a cooperative agreement with NSF and is headquartered in Tucson, Arizona. The astronomical community is honored to have the opportunity to conduct astronomical research on Iolkam Du'ag (Kitt Peak) in Arizona, on Maunakea in Hawai'i, and on Cerro Tololo and Cerro Pachón in Chile. We recognize and acknowledge the very significant cultural role and reverence that these sites have to the Tohono O'odham Nation, to the Native Hawaiian community, and to the local communities in Chile, respectively.
Links
Contacts
Jennifer Lotz
Director, Gemini Observatory
Email: jennifer.lotz@noirlab.edu
Charles Blue
Public Information Officer
NSF's NOIRLab
T: +1 202 236 6324
Email: charles.blue@noirlab.edu