ann21016 — Announcement
More than 2000 Participants in NOIRLab's Virtual Astronomy Day Events in Chile
AstroDay–Chile and the Globe at Night March campaign captured the public's attention during National Astronomy Day celebrations in Chile
25 March 2021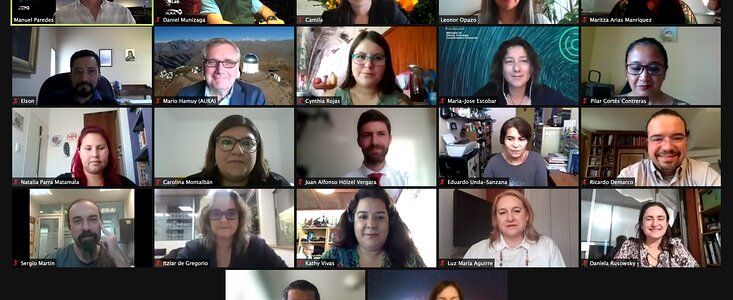 More than 2000 people participated in the online activities that formed part of NSF's NOIRLab's AstroDay–Chile 2021 event last week, contributing to an annual astronomical fair known as Astronomy Day that brings together the most important scientific and tourist observatories in the country. In addition, during the March campaign of the Globe at Night program, more than 400 night sky measurements were made in Chile, marking an unprecedented milestone for this citizen science activity.
Children, young people, older adults and entire families enjoyed the virtual activities that NSF's NOIRLab offered via YouTube over three days, sharing with the community the latest advances in astronomy that were carried out in the most important research centers in Chile and across the world.
This year the activities were designed so that the public had the opportunity to interact directly with scientists and workers from the scientific observatories in Chile and the main astronomy departments of Chilean universities, through questions in the YouTube chat.
During the week, the award ceremony for the 2020 Padre Picetti Award was held, which recognizes a Chilean teacher or educator dedicated to communicating science and astronomy. The award was created in 2014 by the Association of Universities for Research in Astronomy (AURA). This year the winner was Maritza Arias, from the Leonardo da Vinci School in the city of Vicuña.
As a prelude to the Astronomy Day celebrations, the Ministries of Science and Environment of Chile invited citizens to participate in NOIRLab's Globe at Night program to raise awareness about the impact of light pollution. The 5-day campaign, which was broadcast by various local media, set an unprecedented milestone in citizen science in Chile, achieving 495 measurements throughout the national territory.
More information
NSF's NOIRLab (National Optical-Infrared Astronomy Research Laboratory), the US center for ground-based optical-infrared astronomy, operates the international Gemini Observatory (a facility of NSF, NRC–Canada, ANID–Chile, MCTIC–Brazil, MINCyT–Argentina, and KASI–Republic of Korea), Kitt Peak National Observatory (KPNO), Cerro Tololo Inter-American Observatory (CTIO), the Community Science and Data Center (CSDC), and Vera C. Rubin Observatory (in cooperation with DOE's SLAC National Accelerator Laboratory). It is managed by the Association of Universities for Research in Astronomy (AURA) under a cooperative agreement with NSF and is headquartered in Tucson, Arizona. The astronomical community is honored to have the opportunity to conduct astronomical research on Iolkam Du'ag (Kitt Peak) in Arizona, on Maunakea in Hawaiʻi, and on Cerro Tololo and Cerro Pachón in Chile. We recognize and acknowledge the very significant cultural role and reverence that these sites have to the Tohono O'odham Nation, to the Native Hawaiian community, and to the local communities in Chile, respectively.
Links
Contacts
Manuel Paredes
Outreach Manager Chile
NSF's NOIRLab
Email: manuel.paredes@noirlab.edu
Amanda kocz
Press and Internal Communications Officer
NSF's NOIRLab
Cell: +1 626 524 5884
Email: amanda.kocz@noirlab.edu