ann20017 — Announcement
Mysterious Minimoon Identified
22 November 2020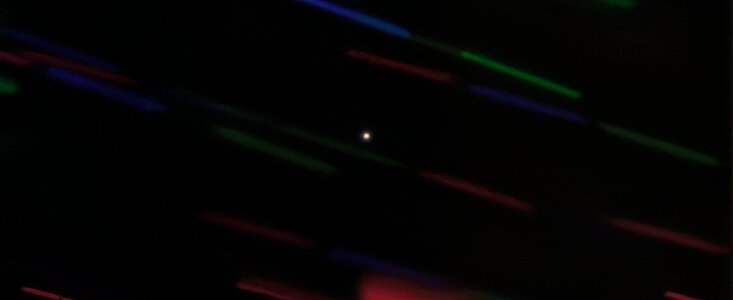 An international team of astronomers has identified the nature of Earth's second known minimoon, 2020 CD3, following its discovery by the Catalina Sky Survey and follow-up imaging with the international Gemini Observatory, a Program of NSF's NOIRLab, earlier this year. Upon its discovery the object was compelling but mysterious, with astronomers unsure if it was a rare natural rocky object or a lost piece of space junk.
Now, observations from a collection of telescopes including Gemini North on Hawai'i's Maunakea have shown 2020 CD3 to be natural in origin. The minimoon is a rocky remnant of a larger body and measures about 1–1.5 metres (3–5 feet) across — roughly the size of a large desk. The team also found that 2020 CD3 was only a temporary visitor to Earth — after spending 2.7 years in orbit it was ejected to roam the Solar System in April this year.
As well as characterizing 2020 CD3, the team of astronomers expect that many more minimoons should be discovered in the coming years. In particular, the upcoming Vera C. Rubin Observatory will undertake the Legacy Survey of Space and Time, surveying the visible southern sky every few nights. The frequent, large-scale observations are expected to make discovering minimoons a regular occurrence rather than an occasional astronomical curiosity.
More information 
NSF's NOIRLab (National Optical-Infrared Astronomy Research Laboratory), the US center for ground-based optical-infrared astronomy, operates the international Gemini Observatory (a facility of NSF, NRC–Canada, ANID–Chile, MCTIC–Brazil, MINCyT–Argentina, and KASI–Republic of Korea), Kitt Peak National Observatory (KPNO), Cerro Tololo Inter-American Observatory (CTIO), the Community Science and Data Center (CSDC), and Vera C. Rubin Observatory. It is managed by the Association of Universities for Research in Astronomy (AURA) under a cooperative agreement with NSF and is headquartered in Tucson, Arizona. The astronomical community is honored to have the opportunity to conduct astronomical research on Iolkam Du'ag (Kitt Peak) in Arizona, on Maunakea in Hawaiʻi, and on Cerro Tololo and Cerro Pachón in Chile. We recognize and acknowledge the very significant cultural role and reverence that these sites have to the Tohono O'odham Nation, to the Native Hawaiian community, and to the local communities in Chile, respectively.
Links
Contacts
Amanda Kocz
Press and Internal Communications Officer
NSF's NOIRLab
Cell: +1 626 524 5884
Email: amanda.kocz@noirlab.edu