Planetarium Show: Big Astronomy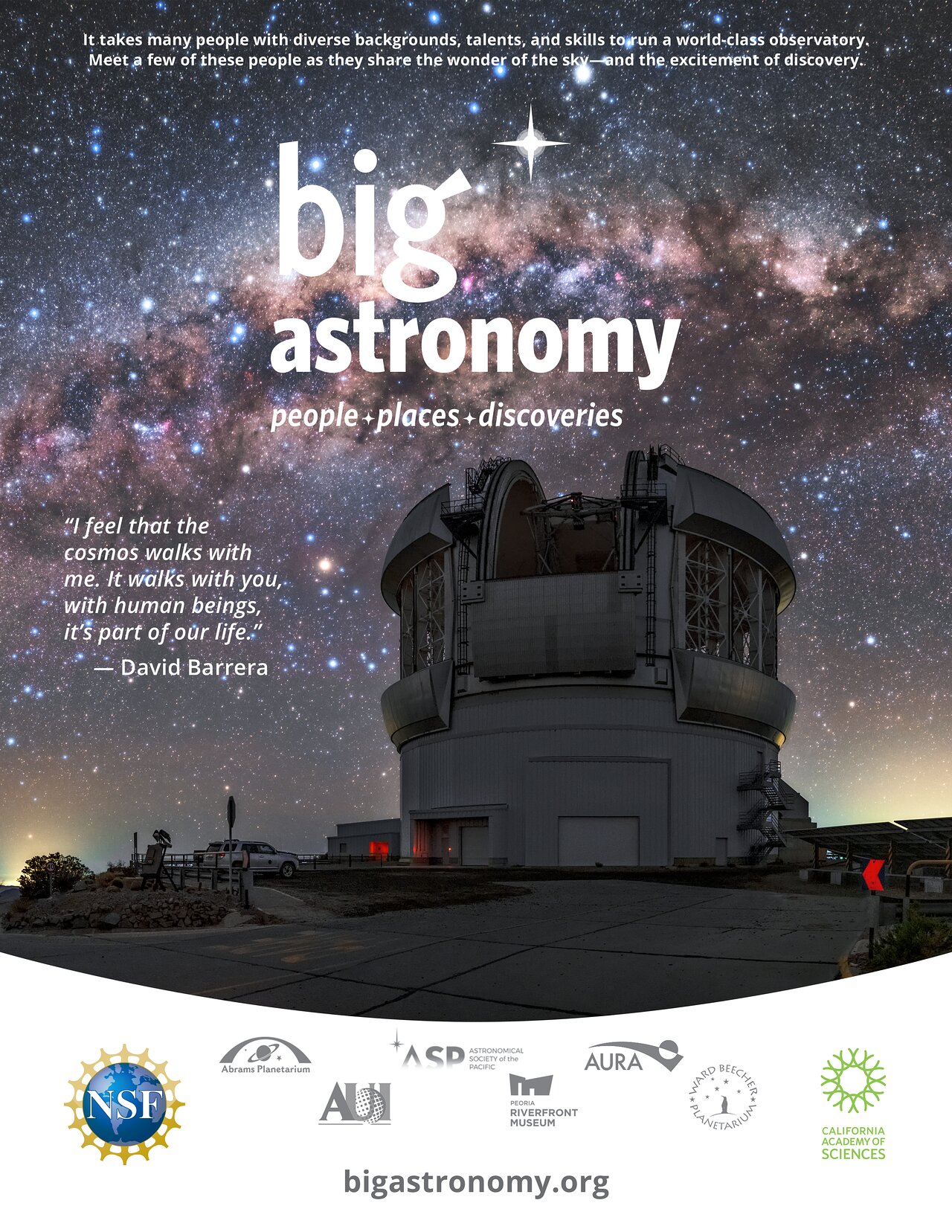 Big Astronomy or Astronomia a Gran Escala is a bilingual planetarium show that extends beyond the dome using web-based and hands-on resources. In Big Astronomy, discover Chile's grand observatories and meet the people who push the limits of technology and expand what we know about the Universe using world-class telescopes.
Big Astronomy or Astronomia a Gran Escala shares the story of the people and places who make big astronomy and big science happen. The planetarium show transports viewers to Chile where the dark skies and dry, remote setting create ideal conditions to observe the Universe. By 2022, it is expected that most of the world's ground-based observing infrastructure will be located in Chile, and the US and other countries are investing billions of dollars in furthering astronomy partnerships in the country. Big Astronomy introduces audiences to a wide variety of people involved in advancing astronomical discovery. 
Produced by the California Academy of Sciences, the Big Astronomy planetarium show had its world premiere on 26 September 2020.  The NOIRLab facilities in Chile featured in this extraordinary planetarium production are the Cerro Tololo Inter-American Observatory (CTIO) and the international Gemini Observatory. Other facilities featured are the Atacama Large Millimeter/submillimeter Array (ALMA) and Vera C. Rubin Observatory.
The full-length show is now available for planetariums from the Big Astronomy website. Planetariums can download a copy for streaming and as 2k planetarium frames or order 4k planetarium frames with soundtracks in both English and Spanish. 
Big Astronomy doesn't end with the planetarium show, though. The team has also developed an educator guide, a bilingual flat-screen version of the film, and a toolkit with a variety of hands-on activities to further engage learners of all ages. In addition, over the next two years, Big Astronomy will host a series of live virtual events featuring the diverse careers of real people who work at the facilities. All these pieces, including the planetarium show, will culminate in a new research-based model to inform the creation of future, more engaging, planetarium shows.
See the trailer here.  
Credit:
About the Planetarium Show
| | |
| --- | --- |
| Id: | planetarium-show001 |
| Release date: | Oct. 7, 2020, 7:08 a.m. |
Images

Fullsize Original

Large JPEG
2.3 MB

Screensize JPEG
554.7 KB
---