Blue Stragglers shown to form from mass transfer in Binary systems
19 October 2011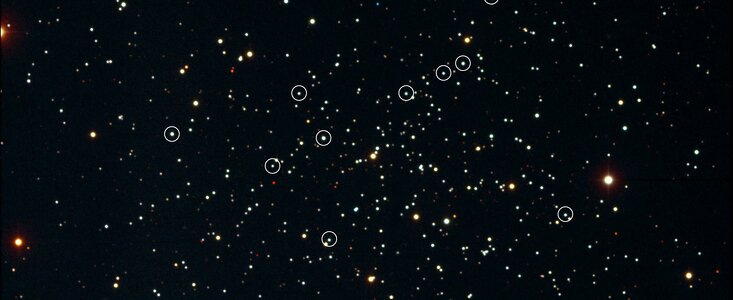 In a paper just published in Nature, Aaron Geller (Northwestern U) and Robert Mathieu (U of Wisconsin) have shown that blue stragglers are most probably formed from mass transfer or mergers in binary systems, rather than originating from stellar collisions as has also been proposed. Observations made at the WIYN 3.5m of the old open cluster NGC 188 show that blue stragglers in long period binaries have companions with masses ~ 0.5 solar mass, with very little scatter.
This image of the open star cluster NGC 188 was taken at the WIYN 0.9m in V, B and I. The blue stragglers discussed in this paper are circled. (image credit: K. Garmany, F. Haase NOAO/AURA)
More information
NOAO is operated by Association of Universities for Research in Astronomy Inc. (AURA) under a cooperative agreement with the National Science Foundation.