GLOBE at Night 2008 Builds Wider Networks as Big Step Toward IYA 2009
18 February 2008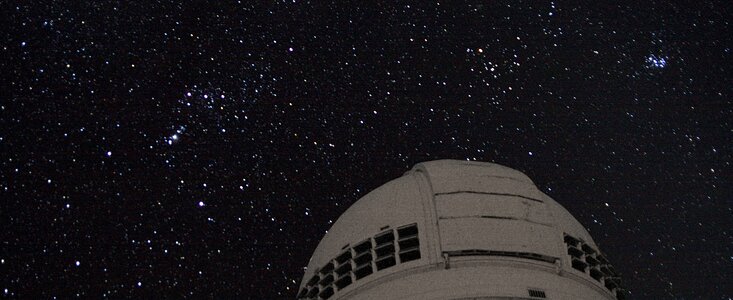 The international star-counting activity known as GLOBE at Night returns for its third edition from February 25-March 8, 2008, with assistance from the educational outreach networks of the Astronomical Society of the Pacific (ASP) to help spread the campaign more widely to amateur astronomers and science centers.
Both the "classic" GLOBE at Night exercise that anyone can have fun doing with their unaided eyes, and a digital effort to obtain precise measurements of urban dark skies are offered again this year, in anticipation of a massive coordinated global effort with both versions during the International Year of Astronomy 2009.
The inaugural GLOBE at Night effort in 2006 drew more than 18,000 citizen-scientist participants in all 50 U.S. states and 96 countries worldwide during the 10-day event. In 2007, the classic campaign produced 8,491 unique measurements from 49 states and 60 countries, an increase of 85% over the 4,591 measurements reported in 2006. In addition, nearly 1,000 digital sky-brightness measurements were submitted in a prototype effort using sky-quality meters (SQMs) distributed with special additional funding from the National Science Foundation.
The GLOBE at Night program is designed to aid teaching about the impact of artificial lighting on local environments, and the ongoing loss of a dark night sky as a natural resource for much of the world's population. In early 2008, special training sessions and workshops have been conducted the Astronomy from Ground Up and Night-Sky Network groups fostered by the Astronomical Society of the Pacific (ASP).
"We are excited to offer GLOBE at Night this year in collaboration with our colleagues at the GLOBE program and the ASP, and we are thrilled that the project will be a key element of a variety of dark-skies activities being planned as one of the 11 major cornerstone projects for the 2009 International Year of Astronomy," says Connie Walker, GLOBE at Night project manager at the National Optical Astronomy Observatory (NOAO) in Tucson, AZ. Walker is also the leader of national and international task groups on dark-skies awareness programs for IYA 2009.
The classic GLOBE at Night program directs students, families, and the general public how to observe and record the number of stars visible in the constellation Orion, as seen from different locations. Observers report their results online by comparing their view of Orion with a set of template images on the program's Web site, which shows the number of stars in the constellation for a range of visibilities from bright skies to very dark.
The digital version takes advantage of low-cost digital SQMs manufactured by Unihedron of Ontario, Canada, which can make a highly repeatable direct measurement of integrated sky brightness. The newly available second-generation of SQMs being used this year by several GLOBE at Night sites has a cone-shaped "field of view" that is four times more narrow than the older model, specifically aiding its use in city environments where surrounding lights or buildings may affect the readings, explains Walker.
More than 25 museums and science centers in the ASP's Astronomy from the Ground Up network and over 50 amateur astronomy clubs in its Night-Sky Network from all over the country have received special training in using the SQMs and in ways that the resulting data can be used to compare sky-brightness levels with other civic phenomena. They will be using their training to hold public events during the GLOBE at Night campaign in which citizen-scientists will contribute measurements to a growing global database—a list of these local sites is posted at the NOAO and GLOBE at Night Web sites.
"Our 2007 results convinced us that a citizen-science campaign like GLOBE at Night is a great way to find dark sky oases in or near our cities," says Stephen Pompea, manager of science education at NOAO. "These dark, safe places are as valuable to the astronomy-interested public as very dark mountain observatory sites are to astronomers."
The GLOBE at Night Web site provides all the information needed to participate, including instruction guides for teachers, students, and parents. There is no cost to participate in GLOBE at Night.
Notes
GLOBE at Night is a collaboration between The Global Learning and Observations to Benefit the Environment (GLOBE) Program, Boulder, CO; the National Optical Astronomy Observatory (NOAO) in Tucson, AZ; Centro de Apoyo a la Didactica de la Astronomia (CADIAS) in Chile; Environmental Systems Research Institute, Inc. (ESRI); and the International Dark-Sky Association (IDA).
The National Optical Astronomy Observatory (NOAO) consists of Kitt Peak National Observatory near Tucson, AZ; Cerro Tololo Inter-American Observatory near La Serena, Chile; and, the NOAO Gemini Science Center, the route for U.S. astronomers to observe with the Gemini North telescope in Hawaii and the Gemini South telescope in Chile. NOAO is operated by the Association of Universities for Research in Astronomy Inc. (AURA), under a cooperative agreement with the National Science Foundation.
GLOBE (Global Learning and Observations to Benefit the Environment) is a worldwide, hands-on, primary and secondary Earth science and education program. GLOBE promotes and supports student-teacher-scientist collaborations on inquiry-based investigations of Earth's environment. To date, over 1 million students and 40,000 teachers from more than 100 countries have participated in GLOBE. GLOBE is funded by the National Aeronautics and Space Administration (NASA), supported by the National Science Foundation (NSF) and the U.S. Department of State, and implemented through a cooperative agreement between NASA, the University Corporation for Atmospheric Research (UCAR) in Boulder, Colorado and Colorado State University in Fort Collins, Colorado.
More information
For more information, including user-friendly teacher packets and information on how the activity relates to local science teaching standards, see the program's Web page, or contact globeatnight@globe.gov or outreach@noao.edu.
Participation is open to anyone who lives or works in one of the 110 GLOBE countries and can get outside and look skyward during February 25-March 8. If you are not located in a GLOBE Country, please contact the GLOBE Regional Desk Officer for your region to learn more about how a country can join. For more information on the Unihedron sky-quality meters, see their web site.
Contacts
Douglas Isbell
Office of Public Affairs and Educational OutreachNational Optical Astronomy Observatory
Tel: 520/318-8230
Email: disbell@noao.edu