Gemini Observatory Announces Selection of 2005 StarTeachers
9 December 2004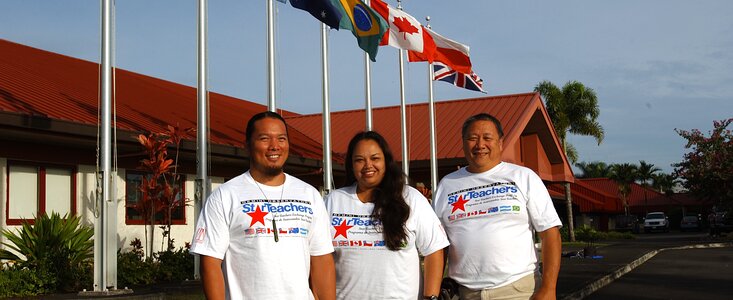 On Thursday, December 9th, 2004 the Gemini Observatory announced the six teachers selected for the 2005 StarTeachers exchange program between Hawaii and Chile.
In a videoconference ceremony that connected Hawaii, Chile and the National Science Foundation headquarters in Arlington VA, the three teachers from East Hawaii met their colleagues in Chile. In April, the Hawaii teachers will travel to Chile for two weeks and in October the Chilean teachers will visit Hawaii. During each visit many community/educational events are planned as well as videoconferences between students in both communities.
The three teachers selected from East Hawaii are:
Tom Chun — Kamehameha School, Ke'aau Campus
Roddy Floro — Ke'aau High
Sonya Carvalho — Connections Charter School
The three teaches selected from Chile are:
Dalma Valenzuela Azola — Escuela de Concentración Fronteriza "Ríos de Elqui," Rivadavia
Sonia Layana Castillo — Liceo Alejandro Alvarez Jofré, Ovalle
Carlos Videla Bonilla — Liceo Diego Portales, Coquimbo
A website has been created with publication quality images and biographical information on each teacher, see: www.gemini.edu/pio/StarTeachers/2005Bios
Mayor Harry Kim spoke at the ceremony. "This is an unbelievably exciting program, not just for these teachers, but to their students and schools and to our communities," said Mayor Kim. "As a celebration of the Sister City relationship between our communities, I cannot think of a better way to share our Aloha."
It is anticipated that Mayor Kim or one of his staff will join the teachers in Chile during their April visit.
This is the second time Gemini has sponsored the StarTeachers program between Hawaii and Chile. During the first exchange in 2003, teachers presented lessons topics ranging from hula, telescopes and Polynesian voyaging. Using videoconferencing students were able to exchange ideas, culture and even favorite songs. The 2005 teachers have already begun working on lesson plans and activities for their exchanges later this year.
The StarTeachers exchange program is sponsored by the Gemini Observatory in an effort to share the culture and science of both communities that hose Gemini facilities. In 1994, Hawaii County and La Serena Chile were officially recognized as Sister Cities and this program was developed as part of that relationship.
Dr. Wayne Van Citters, Director of the Astronomical Sciences Division at the National Science Foundation (NSF) also participated in the celebration today via videoconference from his office in Arlington Virginia. "The StarTeachers program is doing something that may not be apparent at first glance, it is inspiring our children to aim high," said Van Citters. NSF provides almost half of Gemini's funding.
Journalists are invited to attend the ceremony on December 9th starting at 8:30 am at the Gemini Headquarters in UHH's University Park. Broadcast quality video will also be made available upon request. Please contact Janice Harvey at: (808) 974-2603 for more information.
Contacts
Ma. Antonieta García Ureta
Observatorio Gemini Colina El Pino s/n
La Serena
Tel: 205628
Email: agarcia@gemini.edu