Massive Magnetic Helium Star Goes Supernova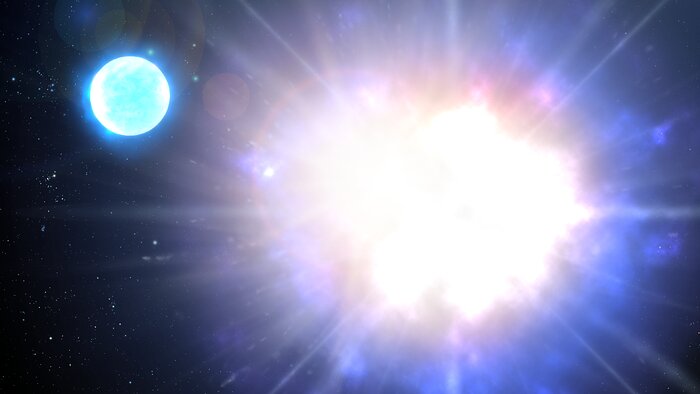 A team of researchers, including NOIRLab astronomer André-Nicolas Chené, has found a highly unusual star that may become one of the most magnetic objects in the Universe: a variant of a neutron star known as a magnetar. This finding marks the discovery of a new type of astronomical object — a massive magnetic helium star — and sheds light on the origin of magnetars.
This artist impressoin illustrates how, in a few million years, HD 45166 will explode as a very bright, but not particularly energetic, supernova. During this explosion, its core will contract, trapping and concentrating the star's already daunting magnetic field lines. 
Credit:
NOIRLab/AURA/NSF/P. Marenfeld/M. Zamani
About the Image
| | |
| --- | --- |
| Id: | noirlab2323d |
| Type: | Artwork |
| Release date: | Aug. 17, 2023, 11 a.m. |
| Related releases: | noirlab2323 |
| Size: | 3840 x 2160 px |
---
About the Object
---
Image Formats

Fullsize Original

Large JPEG
921.0 KB

Screensize JPEG
86.0 KB
---
Zoomable
---
Wallpapers
---