A Young Mammoth Cluster of Galaxies Sighted in the Early Universe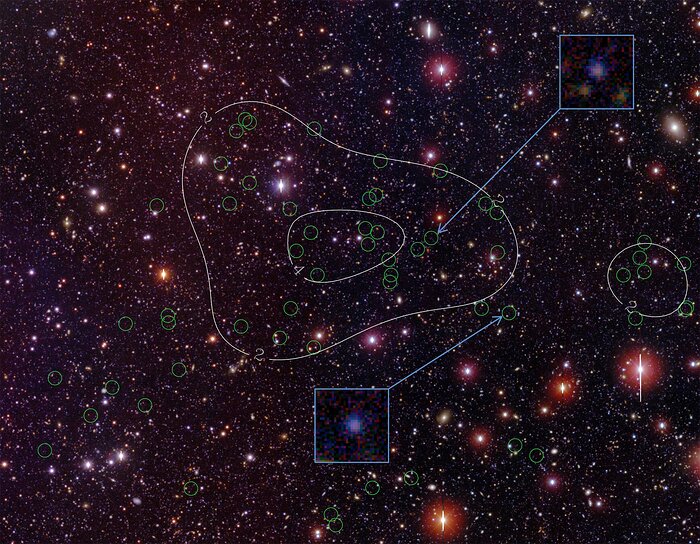 The newly discovered protocluster of galaxies located in the Bootes field of the NOAO Deep Wide-field Survey. Green circles identify the confirmed cluster members. Density contours (white lines) emphasize the concentration of member galaxies toward the center of the image. The patch of sky shown is roughly 20 arcminutes x 17 arcminutes in size. The cluster galaxies are typically very faint, about 10 million times fainter than the faintest stars visible to the naked eye on a dark night. The inset images highlight two example members that glow in the Ly-alpha line of atomic hydrogen. The protocluster is massive, with its core weighing as much as a quadrillion suns. The protocluster is likely to evolve, over 12 billion years, into a system much like the nearby Coma cluster of galaxies, shown in the image below.
Credit:
Dr. Rui Xue, Purdue University.
About the Image
| | |
| --- | --- |
| Id: | noao1601a |
| Type: | Collage |
| Release date: | May 25, 2016 |
| Related releases: | noao1601 |
| Size: | 1944 x 1512 px |
---
About the Object
---
Image Formats

Fullsize Original

Large JPEG
1.1 MB

Screensize JPEG
448.0 KB
---
Zoomable
---
Wallpapers
---