IC 5146: The Cocoon Nebula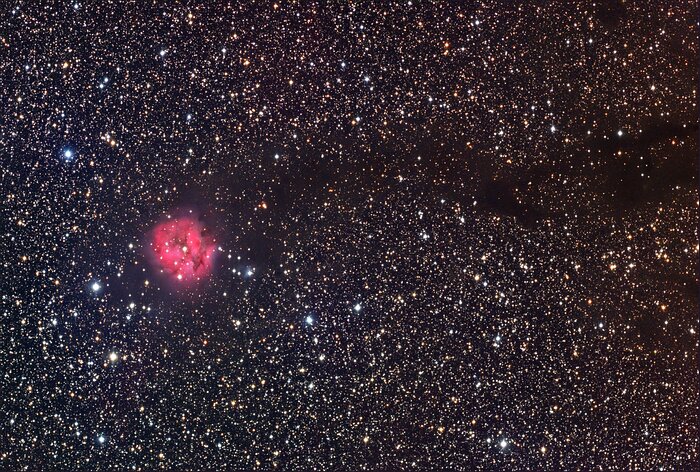 IC 5146, commonly known as the Cocoon Nebula, glows red due to hydrogen gas being illuminated by the young interior stars. It is about 4000 lightyears away and about 15 lightyears across.
This image was taken as part of Advanced Observing Program (AOP) program at Kitt Peak Visitor Center during 2014.
Credit:
KPNO/NOIRLab/NSF/AURA/Adam Block
About the Image
| | |
| --- | --- |
| Id: | noao-ic5146wideblock |
| Type: | Observation |
| Release date: | June 7, 2014, 9:23 a.m. |
| Size: | 2184 x 1472 px |
---
About the Object
---
Image Formats

Fullsize Original

Large JPEG
3.0 MB

Screensize JPEG
549.8 KB
---
Zoomable
---
Wallpapers
---
Coordinates
| | |
| --- | --- |
| Position (RA): | 21 53 8.48 |
| Position (Dec): | 47&deg 13' 52.09" |
| Field of view: | 96.46 x 65.00 arcminutes |
| Orientation: | North is 6.7° right of vertical |
---
Colors & filters
Band
Wave-length
Tele-scope
Optical
B
438 nm
Visitor Center Roll Off Roof Observatory
Other CCD
Optical
G
475 nm
Visitor Center Roll Off Roof Observatory
Other CCD
Optical
R
625 nm
Visitor Center Roll Off Roof Observatory
Other CCD
Optical
Broad Band
555 nm
Visitor Center Roll Off Roof Observatory
Other CCD