Kitt Peak in Recovery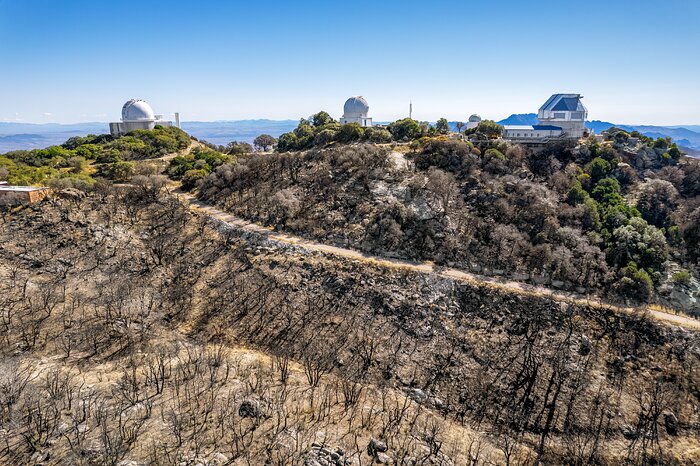 The summer of 2022 was a precarious time for Kitt Peak National Observatory (KPNO), a Program of NSF's NOIRLab. On Saturday 11 June the Contreras Fire began on a remote ridge of the Baboquivari Mountains, south of Kitt Peak. The fire swept through the Tohono O'odham Nation, including the Quinlan Mountains where KPNO is located. The burnt trees seen here show how far the fire climbed yup the mountains, ending just feet away from the KPNO 2.1-meter Telescope, WIYN 0.9-meter Telescope, Visitor Center Levine 0.4-meter Telescope, and WIYN 3.5-meter Telescope (left to right).
A few days after the fire began, the observatory was evacuated and KPNO staff worked quickly to shut down the scientific instruments. By the evening of 24 June the fire around KPNO had grown to almost 30,000 acres. Courageous fire crews subdued the fire on Kitt Peak by 28 June, allowing KPNO staff to evaluate the impact of the fire and assess any damage. Some buildings at KPNO were either destroyed or damaged, but fortunately all of the scientific equipment was intact. Each instrument was carefully inspected and cleaned before it was returned to operation. Thanks to the recovery efforts of fire crews and KPNO staff, many of the telescopes and key scientific instruments are now back operating at full capacity and exploring the Universe.
Credit:
KPNO/NOIRLab/NSF/AURA/P. Marenfeld
About the Image
| | |
| --- | --- |
| Id: | iotw2340a |
| Type: | Photographic |
| Release date: | Oct. 4, 2023, noon |
| Size: | 5464 x 3640 px |
---
About the Object
---
Image Formats
---
Zoomable
---
Wallpapers
---