An Expansive Universe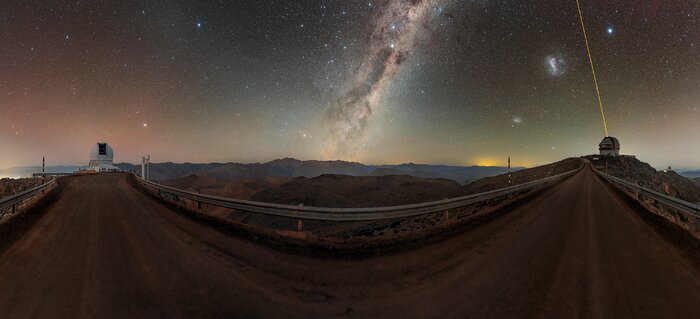 The extent of our visual field is limited, and can process little information compared to its actual environment. But what would the night sky look like with a much wider field of view, like with a camera?
In this panorama, the Milky Way sets the night ablaze in a bright glowing pillar, dividing the sky in two. On the right, the Gemini South telescope — one half of the International Gemini Observatory, operated by NSF's NOIRLab — projects its laser guide star into the atmosphere. In the sky above the telescope, from left to right, lie the Small and Large Magellanic Clouds and the star Canopus. On the other end of the image is the SOAR Telescope — part of Cerro Tololo Inter-American Observatory, a Program of NOIRLab — with three stars above it forming the semblance of a triangle. The top left vertex is Denebola, the bottom Arcturus, and the top right Spica. There are many more objects in the night sky than these, though it is quite impressive to capture this many with just a panorama. Imagine how much more stunning detail large telescopes like Gemini South and SOAR can discover.
This photo was taken as part of the recent NOIRLab 2022 Photo Expedition to all the NOIRLab sites. A full 360-degree panorama of this image can be viewed here.
Credit:
International Gemini Observatory/NOIRLab/NSF/AURA/ P. Horálek (Institute of Physics in Opava)