Triple Stellar Treat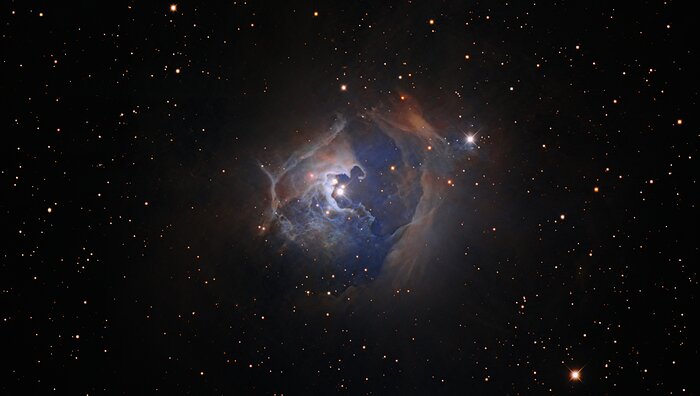 This observation captures the variable star HP Tau, which lies more than 550 light-years from Earth in the constellation Taurus. This image was created using data from the Nicholas U. Mayall 4-meter Telescope at Kitt Peak National Observatory (KPNO), a Program of NSF's NOIRLab. HP Tau is a T Tauri star, a young and chaotic type of star that is settling into a more sedate phase of stellar life known as the main sequence. The length of time that a star spends on the main sequence will depend on its mass. Our Sun, for example, is about halfway through its roughly 10-billion-year main-sequence lifetime.
HP Tau is part of a triple star system — the three separate stars are visible at the center of this image — surrounded by a large arcing reflection nebula. These nebulae, as the name suggests, reflect the light from nearby stars rather than glowing like emission nebulae elsewhere in the Universe.
Credit:
KPNO/NOIRLab/NSF/AURA/T.A. Rector (University of Alaska Anchorage/NSF's NOIRLab)
Image processing: T.A. Rector (University of Alaska Anchorage/NSF's NOIRLab), M. Zamani (NSF's NOIRLab) & D. de Martin (NSF's NOIRLab)
About the Image
| | |
| --- | --- |
| Id: | iotw2301a |
| Type: | Observation |
| Release date: | Jan. 4, 2023, noon |
| Size: | 4999 x 2825 px |
---
About the Object
---
Image Formats
---
Zoomable
---
Wallpapers
---
Coordinates
| | |
| --- | --- |
| Position (RA): | 4 35 55.01 |
| Position (Dec): | 22&deg 53' 55.74" |
| Field of view: | 20.83 x 11.77 arcminutes |
| Orientation: | North is 89.8° left of vertical |
---