Mauna Loa Lava and Light Pillar Caught on Camera from Gemini North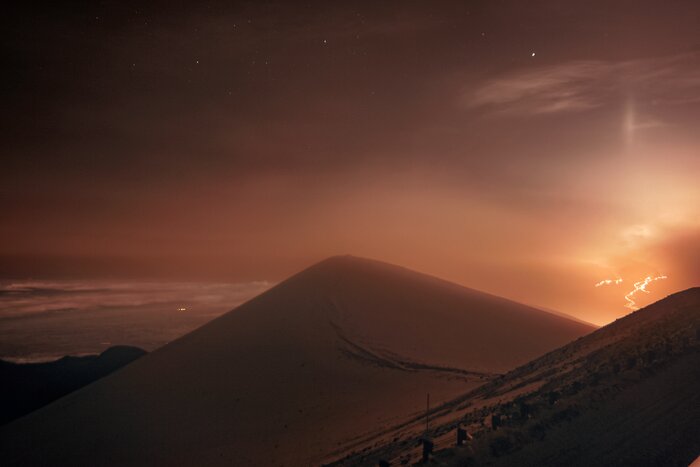 This Image of the Week shows the lava flows from Mauna Loa caught by one of the International Gemini Observatory's Cloudcams, which operates 24/7 near the snow-covered summit of Maunakea (the highest point in the image). 
Mauna Loa, on the island of Hawaiʻi, began erupting on 27 November 2022, when lava emerged from fissures in Moku'āweoweo, Mauna Loa's caldera at the summit. The reddish glow from the flows can be seen across the island. Mauna Loa is the world's largest active volcano and has not erupted in nearly 40 years. 
The image was taken in the early morning at 02:15 am local time on 29 November. This eruption is being watched closely by all inhabitants of the island of Hawaiʻi. Staff at Gemini North, operated by NSF's NOIRLab, and the other Maunakea Observatories are monitoring with bated breath as the flows move down the flank of Mauna Loa towards the Daniel K. Inouye Highway (Saddle Road), which intersects with the Maunakea summit access road. On Mauna Loa itself, lava has crossed the access road, and cut off power, to NOAA's Mauna Loa Observatory. The eruption poses no threat to the Maunakea observatories and the flow remains far from any habitation at the moment.
Also seen in the image is an exceptionally rare lava light pillar. More commonly seen as a sun pillar, this atmospheric phenomenon has been seen associated with a volcano on rare occasion but requires an alignment of circumstance: obviously an erupting volcano (which provides the source of light near to the horizon), but also a high altitude cloud and freezing temperatures. These form a collection of millions of horizontally floating ice crystals to reflect the light towards the observer.
The Gemini Cloudcams have caught many exceptional phenomena on camera over the past few years.
Credit:
International Gemini Observatory/NOIRLab/NSF/AURA
About the Image
| | |
| --- | --- |
| Id: | iotw2248a |
| Type: | Photographic |
| Release date: | Nov. 30, 2022, noon |
| Size: | 3888 x 2592 px |
---
About the Object
---
Image Formats

Fullsize Original

Large JPEG
1.4 MB

Screensize JPEG
93.6 KB
---
Zoomable
---
Wallpapers
---