Comparison of 2022 Total Lunar Eclipses from NOIRLab's Observatories (unannotated)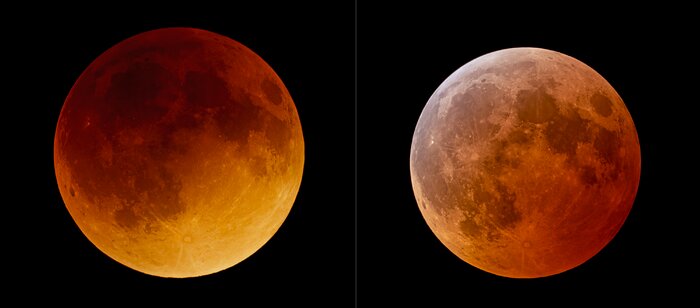 This comparison image shows the two total lunar eclipses in 2022 that were observable from observatories of NSF's NOIRLab. The total lunar eclipse observed on 16 May 2022 was captured near the Andes Mountains in Chile, where Cerro Tololo International Observatory and the future Vera C. Rubin Observatory, programs of NSF's NOIRLab, are located. The eclipse occurred a day before perigee so it was larger on the sky than the eclipse in November. The eclipse also appeared darker compared to total lunar eclipses in the past few years; this was due to volcanic ash from the Hunga Tonga–Hunga Ha'apai eruption in the previous January. 
The 8 November 2022 eclipse, captured here from Kitt Peak National Observatory, another program of NSF's NOIRLab, occurred when the Moon passed through the northern part of the Earth's shadow. In this part of the Earth's shadow the effect of the ozone layer in our atmosphere is more visible, showing as a turquoise tint on the northern part of the lunar disc.
You can view the Image of the Week for this eclipse here with more exciting images of this lunar eclipse.
Credit:
KPNO/NOIRLab/NSF/AURA/J. Kujal, P. Horálek (Institute of Physics in Opava)
About the Image
| | |
| --- | --- |
| Id: | iotw2245e |
| Type: | Photographic |
| Release date: | Nov. 9, 2022, 9:11 a.m. |
| Size: | 4500 x 1982 px |
---
About the Object
---
Image Formats
---
Zoomable
---
Wallpapers
---