Moonrise over McMath-Pierce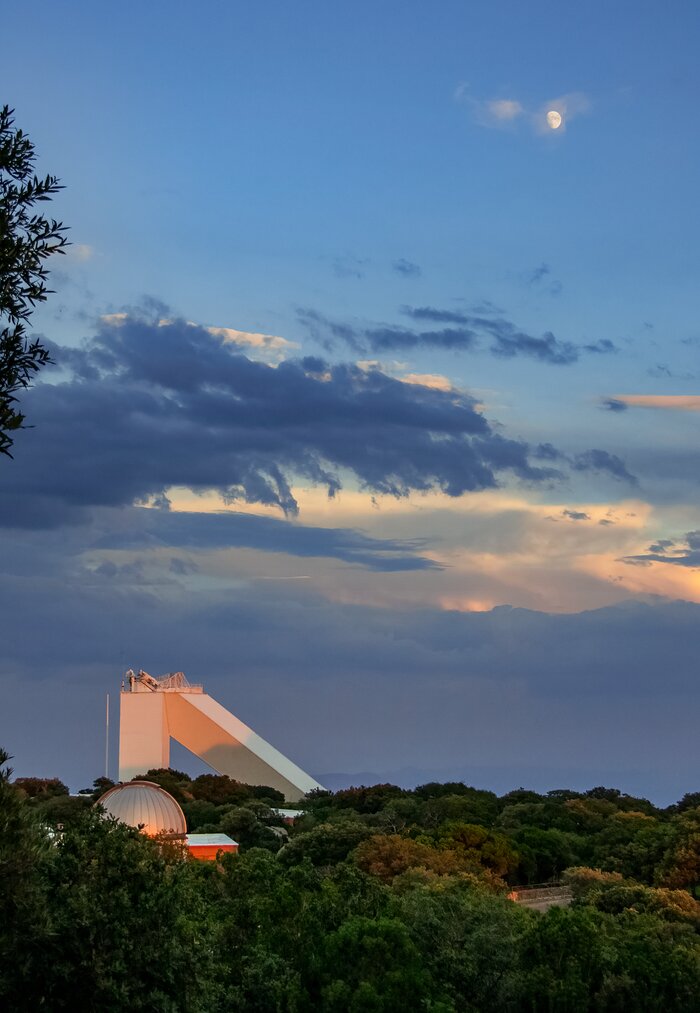 The aboveground portion of the McMath-Pierce Solar Telescope at Kitt Peak National Observatory (KPNO), a Program of NSF's NOIRLab, is seen here at moonrise. The telescope, located about 88 kilometers (55 miles) from Tucson, Arizona, saw its first light in 1962. For much of its life, it was the largest solar telescope on Earth and was notable for its unusual flat mirror, called a heliostat. This mirror tracked the Sun across the sky and continually sent sunlight down into an underground tunnel where the telescope itself was located. This construction helped minimize hot air currents in the light path to the telescope and preserve the quality of the collected data. The McMath-Pierce was also aimed at the Moon, planets, and bright stars for scientific research from time to time.
Though decommissioned as a science instrument, the McMath-Pierce Solar Telescope facility is being repurposed as the NOIRLab Windows on the Universe Center for Astronomy Outreach.
This image was taken before the 2022 Contreras Fire, which affected KPNO. Read more here.
Credit:
KPNO/NOIRLab/AURA/NSF/P. Marenfeld
About the Image
| | |
| --- | --- |
| Id: | iotw2240a |
| Type: | Photographic |
| Release date: | Oct. 5, 2022, noon |
| Size: | 3648 x 5278 px |
---
About the Object
---
Image Formats
---
Zoomable
---
Wallpapers
---