Telescopes Standing Sentry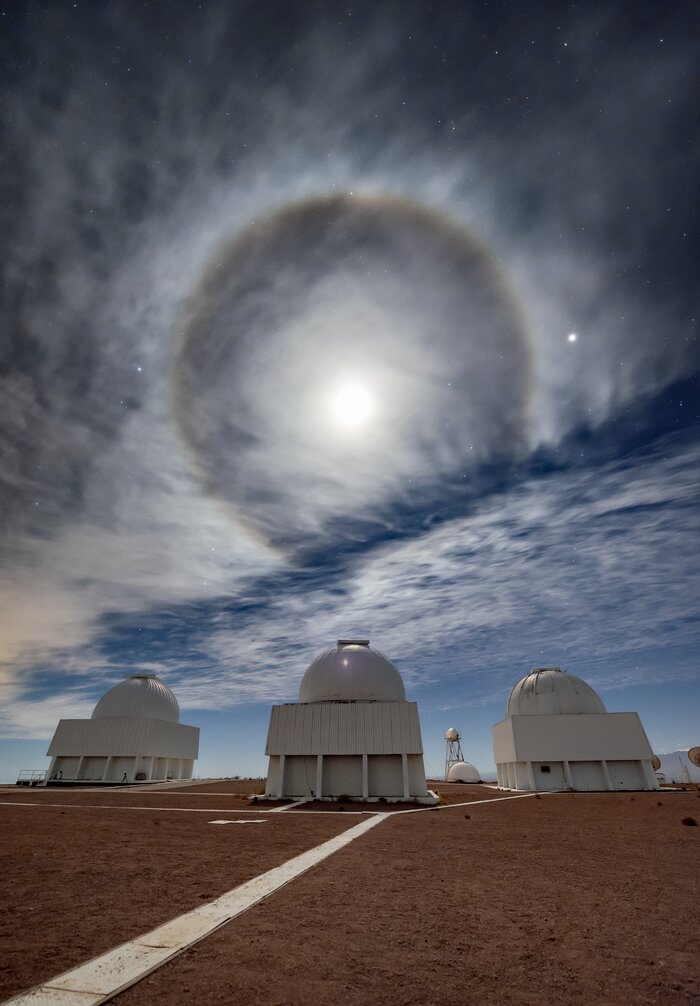 Three telescopes stand sentry under an unusual skyscape in this image from Cerro Tololo Inter-American Observatory (CTIO), a Program of NSF's NOIRLab. The prominent bright ring which hangs ominously above the telescopes is an optical phenomenon known as a 22° halo, and is created by the interplay of ice crystals and light in Earth's atmosphere. When sunlight or moonlight encounters icy high-altitude clouds such as the wispy cirrus clouds in this image, countless ice crystals refract and redirect the rays of light and cause a halo to form. The angle of refraction depends on the wavelength of light, which causes the inner edge of the halo to be slightly reddened.
The central telescope in this image is the Curtis Schmidt Telescope, which is flanked by the SMARTS 0.9-meter and 1.0-meter telescopes. These three telescopes are part of a complex of around 40 telescopes at CTIO, which together provide US and worldwide astronomers with access to astronomical research in the southern hemisphere.
Credit:
CTIO/NOIRLab/NSF/AURA/B. Tafreshi