Star Trails and the Lone Twin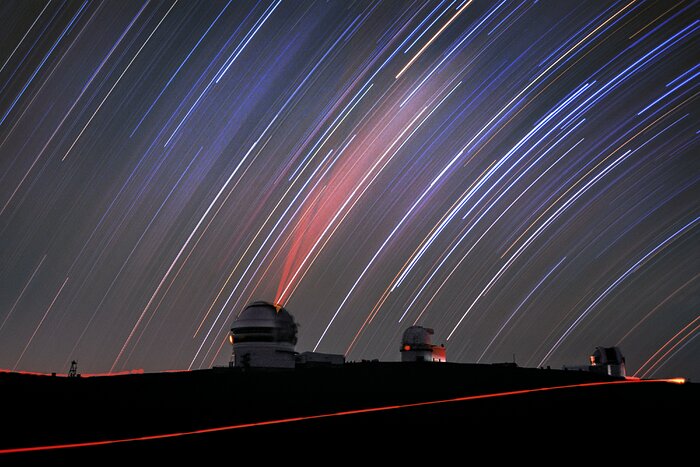 It looks as though the stars are falling through the sky above Gemini North, the northern-hemisphere-based half of the international Gemini Observatory, a Program of NSF's NOIRLab. The stars, however, have not suddenly all shifted across the Universe. The trails of starlight are due to the movement of the Earth itself.
We know that the Earth rotates once on its own axis every 24 hours, giving us daytime and nighttime, but it is still strange to see such a visual reminder. The photographer, Jason Chu, took a very long exposure in order to capture the changing view of the stars as the Earth rotated. The result is this spectacular image with the faint red glow of the Gemini North laser guide star system emanating from its open dome, the taillight of a passing car crossing the dark road below and sweeping star trails in the background. 
Credit:
 International Gemini Observatory/NOIRLab/NSF/AURA/J. Chu
About the Image
| | |
| --- | --- |
| Id: | iotw2114a |
| Type: | Photographic |
| Release date: | April 7, 2021, 5 p.m. |
| Size: | 6016 x 4015 px |
---
About the Object
---
Image Formats
---
Zoomable
---
Wallpapers
---