A Sky Full of Galaxies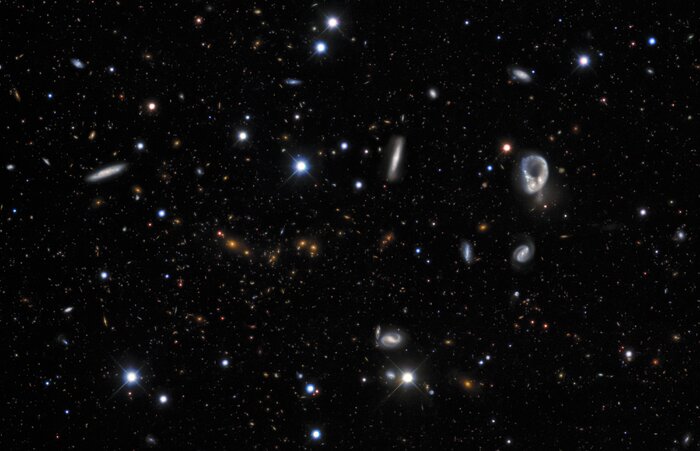 The blackness of space is punctuated by bright dots. This image could almost be mistaken for a particularly detailed shot of the night sky as seen from Earth, full of stars. Appearances, however, can be deceptive. This image was taken from Earthʻs southern hemisphere, but the bright dots are not stars — they are galaxies. In fact, the distinctive, ring-shaped galaxy on the right is LEDA 14884. This image was built up using data from the Dark Energy Survey, an ambitious project which mapped hundreds of millions of galaxies across the Universe. This was done using the Dark Energy Camera (DECam), an instrument built by the Department of Energy and mounted at the Víctor M. Blanco 4-meter Telescope at Cerro Tololo Inter-American Observatory (CTIO), a Program of NSF's NOIRLab. 
Looking at this incredible image, with its thousands of wildly diverse galaxies, it is mind-boggling to recall that only about 100 years ago, most astronomers believed that our Milky Way was the only galaxy in existence. It was not until 1925 that Edwin Hubble, building upon the work of Henrietta Leavitt and Ejnar Hertzsprung, proved that the Andromeda Galaxy must lie beyond the Milky Way, and humanity began to recognize the sheer scope of the Universe.
Credit:
CTIO/NOIRLab/DOE/NSF/AURA
Image processing: Travis Rector (University of Alaska, Anchorage/NSF's NOIRLab), Jen Miller (Gemini Observatory/NSF's NOIRLab), Mahdi Zamani & Davide de Martin (NSF's NOIRLab)
About the Image
| | |
| --- | --- |
| Id: | iotw2110a |
| Type: | Observation |
| Release date: | March 10, 2021, 1:26 p.m. |
| Size: | 4000 x 2576 px |
---
About the Object
---
Image Formats
---
Zoomable
---
Wallpapers
---
Coordinates
| | |
| --- | --- |
| Position (RA): | 4 19 55.16 |
| Position (Dec): | -39&deg 11' 9.68" |
| Field of view: | 11.62 x 7.48 arcminutes |
| Orientation: | North is 0.2° right of vertical |
---