Fireball over KPNO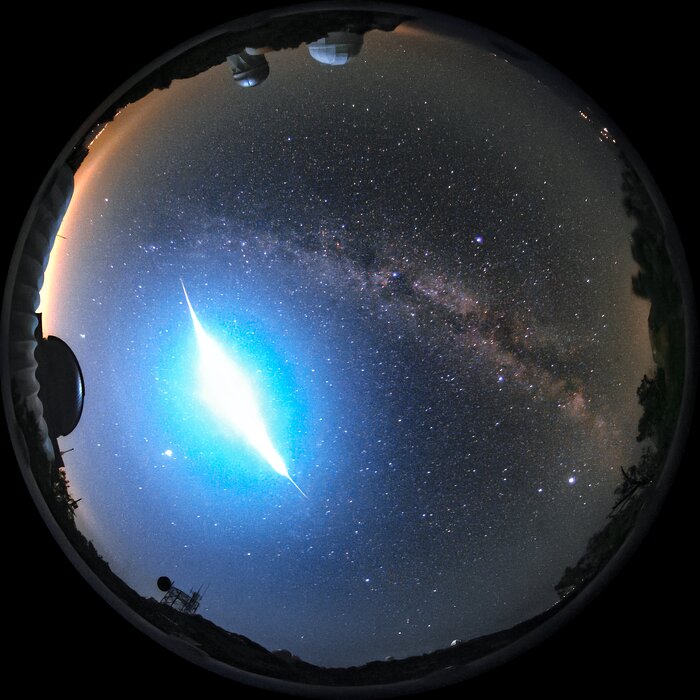 Last week, on the night of Thursday 17 September 2020 10:52 pm, a very bright meteor was reported by more than 25 eyewitnesses in and around Tucson and Phoenix, Arizona. The phenomenon, also known as a fireball or bolide, was also spotted by one of the robotic cameras at Kitt Peak National Observatory (KPNO), a Program of NSF's NOIRLab: an all-sky camera operated by the University of Arizona's Spacewatch who operates the Spacewatch 0.9-meter Telescope and the Spacewatch 1.8-meter Telescope (seen in the image as the white dome near the top of the image respectively on the left). The image shows the fireball, brighter than the full Moon, entering from the south (bottom) of the image and moving north. Its color is a clear blue.
The aim of Spacewatch's telescopes is very relevant: to observe Near-Earth Asteroids which have been found to pose an impact hazard to Earth. KPNO remains closed at this time due to the COVID-19 pandemic, but is gradually moving towards restarting science operations again.
Sightings of this fireball have been collected by The American Meteor Society.
Credit:
Spacewatch/Arizona Board of Regents/KPNO/NOIRLab/NSF/AURA
About the Image
| | |
| --- | --- |
| Id: | iotw2039a |
| Type: | Photographic |
| Release date: | Sept. 23, 2020, 6:54 a.m. |
| Size: | 2000 x 2000 px |
---
About the Object
---
Image Formats

Fullsize Original

Large JPEG
1.1 MB

Screensize JPEG
286.3 KB
---
Zoomable
---
Wallpapers
---