Big Astronomy Live!
---
Thursday, 06 May 2021 2 p.m. — 3 p.m. MST
Your time: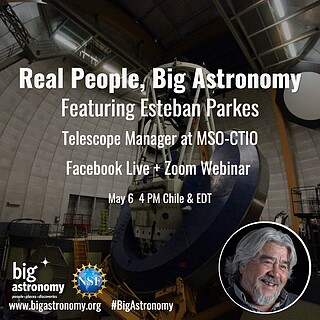 Online event
Community Outreach
Renae Kerrigan (Big Astronomy)
Esteban Parkes is a Telescope Manager at MSO-CTIO. He leads a group of professionals including Electronics ENgineers, Electrical Engineers, and Electrical and Mechanical Technicians to provide night support in operating the telescopes and instruments for data acquisition, and day support to have all the necessary elements for an Observer. At CTIO, Esteban's group supports the Blanco Telescope plus eight other programs that include twenty-seven smaller telescopes.